There's no better opportunity than the start of a new year to try something new. When we follow last year's edgier cuts and styles, this year's collection features some of the best men's haircuts we've seen in a long time. There's a trendy alternative for every hair length and style this year. You'll adore the stunning new haircut styles below if you're looking for the trendiest men's hairstyles.
Getting a new hairdo might not only affect the way you look at life, but it can also change how you feel about yourself. Given that we've all had a rough start to the year, a new haircut might be what you need to keep things fresh and varied.
Short fades and undercuts, mid-length comb-overs and quiffs, and even long man buns and braids are all options. Short undercuts and fade cuts on the sides with medium to long hair on top continue to be fashionable haircuts. While short hairstyles remain stylish and masculine.
The best style for you will be determined by the length and kind of your hair. Even though the best hairstyles this year aren't entirely new, the unlimited styling possibilities of these top hair trends make them worth exploring!
We've created a list of the top haircuts for men right now for inspiration and ideas. These are the most popular men's haircuts for this year that every man should try, from classic cuts like the crew cut, comb-over, short buzz cut, and pompadour to current trends like the quiff, fringe, and untidy hair.
Men's hairstyles can be classic or trendy, depending on the variation and, of course, how it's styled. We've got you covered whether you're looking for a low-maintenance cut that's genuinely washed and go or an attractive hairstyle that's fashionable and handsome. Cut your hair if you've been wearing it long. If you're looking for a way to make your short haircut stand out, we have a few suggestions for you.
25 BEST MEN'S HAIRCUT TO EXPLORE
1. Two-Block Haircut
This men's haircut has a long top with shaved sides and back. The shaved sections aren't as short as the undercut ones. The back of your hairline falls just above your nape, while the sides fall just above your ears with a two-block haircut. This hairdo is famous among KPop artists, so if you have them as style inspiration, consider giving them a try.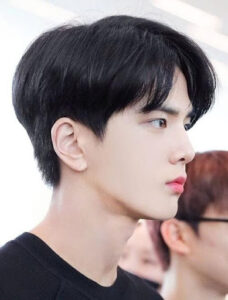 2. Textured Crop
The crop is increasing in popularity in barbershops and hair salons all over the world. The reemergence, which began in Europe, has spread in western countries. Also, throughout Asia, where many young men appreciate the short haircut for its simplicity and ease of styling.
The reasonably short hair on top is then fashioned with a matte pomade or wax, and the sides are faded. The faded sides are innately trimmed with a hair clipper to achieve the French crop haircut, while the neatly trimmed top is cut with scissors. We suggest keeping your cropped hair flat to look similar to a crew cut but with a small fringe.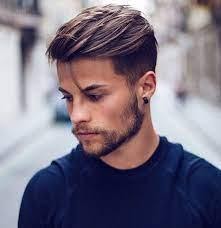 3. Quiff Haircut
The quiff is still a fashionable, sleek hairstyle option for any style-conscious man. The modern quiff haircut's main challenges stem from the intensive styling requirements, which include extra length on top and short faded sides. Although the result of this trendy medium-length style is well worth the effort, many men do not have the time or energy to style their hair every morning.
To achieve a quiff, start with clean, towel-dried hair. Use a blow dryer that is on high heat and a strong-hold pomade, wax, or putty to style a quiff. Apply your styling product evenly to your hair for a messy look, then brush back and blow-dry at the same time. After that, use your fingers or a comb to style your hair as desired.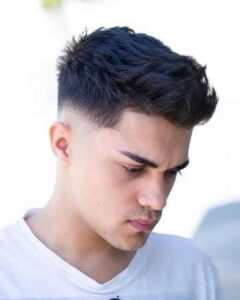 4. Slicked Back Undercut 
The slicked-back undercut haircut is a fashionable blend of modern and classic styles. It looks best on medium-length hair, and styling is as simple as blow-drying your hair back and trying to control the direction with a brush. Finish with a matte pomade to keep this look in place all day or night.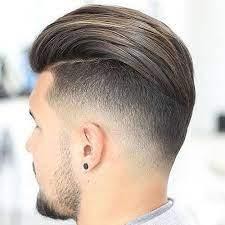 5. Medium Side Swept 
The contemporary side swept hairstyle looks great on most guys, and the combed-over look looks especially good with a full beard. It's ideal for men with thick hair that's between 3 and 5 inches long. To style it, sweep your hair to one side, leaving it textured and messy in the procedure. Pomade with a medium hold and a low shine or matte finish are ideal.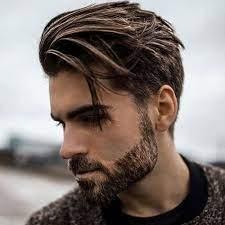 6. Pompadour Hairstyle
As a sleeker version of the quiff, the pompadour has remained a famous men's fashion choice. The pompadour haircut looks like a quiff, with short, longer layers of hair on top. Moreover, the advanced pompadour for men is commonly used in combination with an undercut to create a more edgy look while maintaining the lines of this vintage style.
You'll need a strong hair product, a blow dryer, and a comb to styling the pompadour. Begin by putting on your wax or pomade. Then, comb all of your hair back, gradually adding lift and volume. After you've got the general shape of your pomp, blow dry it to apply heat and keep the form you've created.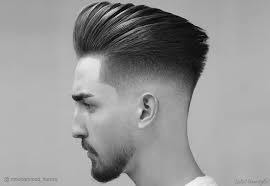 7. Short Textured Men's Haircut
If you already have curly hair, a texturizing hairstyle with a high fade on the sides and back looks more professional enough for the office but still casual for a night out.
For a short sides, long top haircut, you'll need 2 to 3 inches of longer hair on top that transitions down to a close bald fade on the sides and toward the nape of the neck. To finish the look and keep it looking great all day, use a matte hair product such as pomade, wax, or clay. This messy crop top fade is a famous men's haircut that we highly recommend.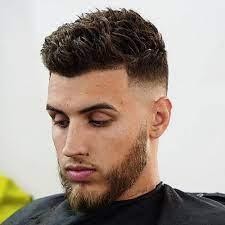 8. Long Hairstyle For Men with Beard
Men with long hair and mustaches can achieve a fashionable look by combining sexy and masculine elements. This popular haircut is still going strong as more guys grow out their hair and style it in medium-length to longer styles.
This fashionable long men's hairstyle with a short beard can be messy and textured, or naturally shiny and pulled back. Apply a tiny portion of styling cream or mousse to damp hair, then gently tousle it with your fingers or a blow dryer before letting it air dry. For men with long hair, this will increase volume, flow, and movement.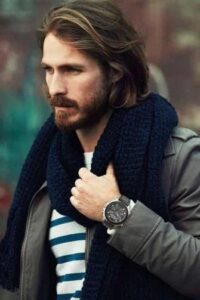 9. Comb Over Hairstyle
A comb-over haircut is an excellent option whether you want a classic or modern look. The comb over fade is a versatile yet straightforward hairstyle that practically styles itself along the part in your hair. Nonetheless, guys can wear the look in a variety of ways.
This parted style has something for everyone, from a low fade to an undercut just on sides to a short and medium length cut with a hard part on top. Comb overs and also side parts should be one of your top picks for the year if you're looking for a different hairstyle for men that compliments almost every face shape and hair type.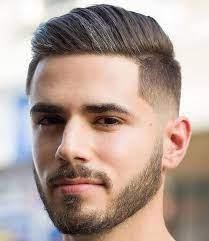 10. Ivy League Haircut
The Ivy League haircut, which is vintage and traditional, is another go-to look that any guy can pull off without any complicated instructions or a slew of styling products. This style is distinguished by short hair parted to the side and faded sides. Choose a low taper fade for a more conservative finish; otherwise, a high skin fade can provide a lot of contrast.
The Ivy League is a good choice for a classic men's haircut that is sure to impress in professional business settings or social settings. Simply request 2 to 3 inches on top with fades on the sides from your barber, and style your hair naturally.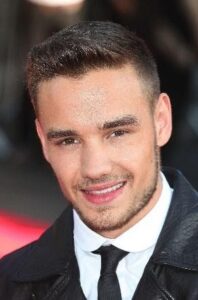 11. Regulation Cut
The military-inspired regulation cut is distinguished by its short length and side parting. It's a basic look that's both practical and easy to pull off. The sides and back are short, with further length at the top of the head to accommodate a side part.
The combination is masculine and gives the appearance of being very neat and polished. It's a good idea to use styling product that keeps everything in place and creates a glossy, smooth finish. This is a perfect look for someone who prefers a simple hairstyle that can be worn for various occasions, including more formal ones.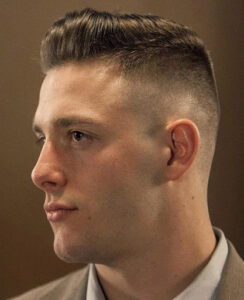 12. High and Tight
A great short haircut for men is high and tight. It is a simple cut with a masculine and rugged feel that was inspired by the military. The overall look is elegant, with faded or short sides and a slightly longer back and top, contributing to a professional appearance.
You can experiment with length, going for very short sides and even a skin fade, or going for a more traditional and classic look. The high and tight is suitable for a wide range of occasions, including more formal ones. It's a simple cut that takes almost no time to style and can be adapted to suit all hair textures and types.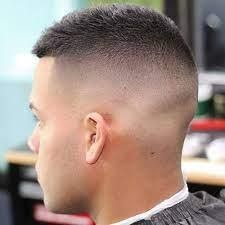 13. Short Curls
The beauty of wavy hair is that it is incredibly versatile; it can be styled in a variety of ways and adapted to different lengths. Having said that, keeping it short is undeniably one of the most convenient ways to wear it.
Short curls are an excellent way to tame your hair, reduce styling time, and prevent tangles. It can also give a manly and cool appearance. Even the most basic cut can be made exciting and sexy by using texture. For a more laid-back look, leave your hair messy. Alternatively, brush it back to keep it looking neat and polished.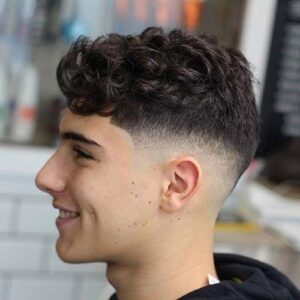 14. Short Haircut Combed Over and an undercut
The comb-over isn't just for men with longer hair. In fact, all you need for a comb-over is at least 3 inches of length. While most men get a comb over fade, the image above shows a clean-cut example of a chic undercut comb-over.
A fantastic long fringe in the front perfectly offsets these short sides, long top style with sharp edges. The look is simple and easy to achieve as one of the most popular haircuts for men to style. Simply apply some of your favorite matte pomades to one side of your hair and brush it to one side.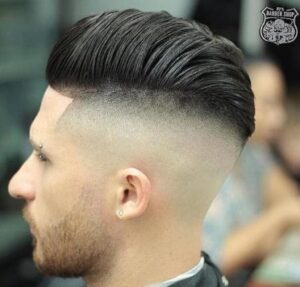 15. Curly Hair Taper Fade
This natural curls fade is one of the best curly hairstyles for men. If you consider your curly hair to be a curse, this taper fade haircut might just change your mind. This curly haircut is as simple as towel-drying your curls, applying some matte or low-shine curl-enhancing cream, and walking out the door, with only 2 to 3 inches of length in the front and also an inch or so in the back.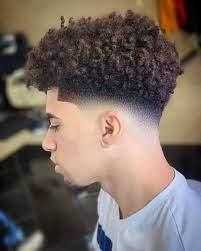 16. Short Sides, Long Top Hairstyle
Hair is all about expression for some men, and this long-on-top style says it all. With the help of some radiating blond highlights, the longer hair length on top stands out, and the fresh skin fade on the sides and back puts even more contrast. Grow a full beard and then trim it with a stubble trimmer for a manly and hot stubble beard.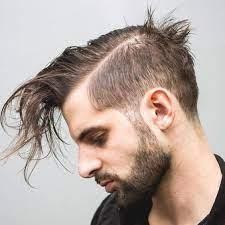 17. Crew Cut
The crew cut, known for its military "short back and sides" look, is a stylish yet long-lasting hairstyle for the modern man. While the standard crew cut may not suit all face shapes, asking your barber to make small changes to the cut can create a look more flattering for your face.
Try longer hair slightly on top if you have a rounder face. Add a fringe or side sweep of your bangs to hide a prominent brow. Then, for a more contrasting look, get a high skin fade on the sides. Whatever your preference, crew cut styles are simple to obtain and style.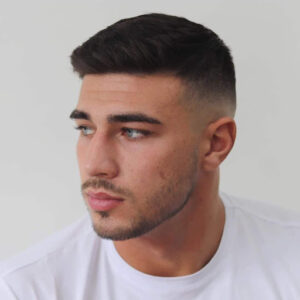 18. Angular Fringe
The angular fringe haircut became popular over the summer. It is expected to become even more popular in the coming months. Men can get longer hair that is naturally styled at an angle by opting for a shaped messy or straight fringe.
The top can then be matched with an undercut or a high fade and lined up. This look is also great for showcasing highlights. If you get tired of styling your quiff, you can do an angular fringe with the same hair.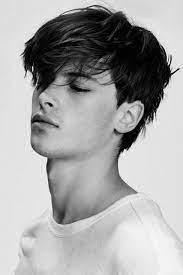 19. Slicked Back Haircut
The slick back is one of the classic hairstyles that suits most men. The slicked-back undercut has long been a favorite of hipster Millennials. Slicked back styles work well in all situations if you're looking for a high contrast way to wear your thick hair.
The best part is that slicking your hairdo back is the simplest look to achieve. All you need is at least 3 inches of hair on top, an undercut or fade on the sides, some high shine pomade, and a comb to achieve this look. To achieve a sleek, professional look, simply comb your pomade through your hair.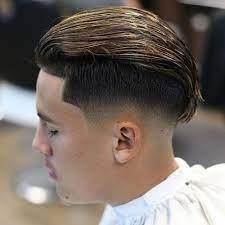 20. Faux Hawk Fade
With numerous men opting for spiky textured crops, the faux hawk is becoming increasingly popular. The modern look foregoes the traditional shiny gelled spikes in favor of something more subtle but still textured. A matte product makes it simple to spike your hair and keep it in place all day, and the skin fade highlights it.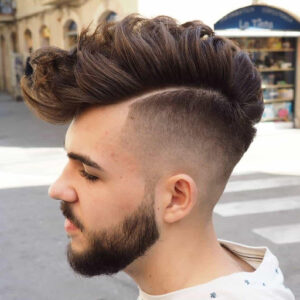 21. Spiky Hair Fade Haircut
If the idea of spikes appeals to you but a mohawk or even a faux hawk is too daring for you. This spiky hairstyle with a short fade might suit you. Simply apply some pomade to damp hair and use a brush to pull hair up and slightly over to one side, then style the textured spikes with your fingertips.
Spiky hair has been famous since the 1990s and has a grunge feel to it. Today, the appeal of this look is that it creates a kind of textured appearance and can suit hair of various lengths and types. The conventional method would be to use defined medium-length spikes. You could also keep them short or go for a sloppy look that is more subtle and natural-looking. Spikes won't look good on long hair unless you use a strong-hold product, which will make you look more punk.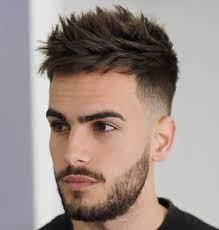 22. Buzz Cut with Line-Up
The shape of a lineup haircut on the hairline, parting, or temples makes a statement. It has a distinctive appearance with straight lines or sharp angles that contribute to the creation of a modern and stylish cut.
Wearing it with a buzz cut is one of the best options because it is a simple style that benefits from the addition of a lineup. It is a versatile option that complements most face shapes and can draw attention to your facial features. It can also be created on a variety of hair textures and types, making it an excellent choice for anyone looking to tame unruly hair or cut down on grooming time.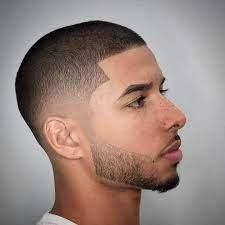 23. Wavy Hairstyles
Men with natural curls understand that they require a unique style to work with their unruly, difficult-to-manage locks. However, rather than fighting your hair's natural waves, we recommend that you embrace them.
The most fashionable wavy hairstyles emphasized this raw texture. Wavy hair adds a unique flair that other hair types lack. But, just to make things easier for you, we recommend cutting your hair very short on the sides. Try a bald fade or undercut, which leaves a controllable length on top of the head while still highlighting the natural texture of your hair.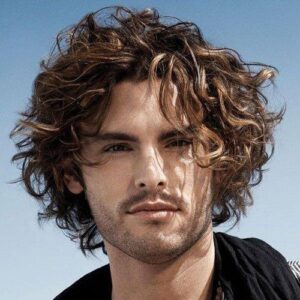 24. Dyed Hair
If you're searching for a new look in the new year, dying your hair could be the ideal way to express yourself. Many men do not consider bleached hair a viable option, but it can be the best way to start fresh and add something extra.
With the right hairstyle and look, platinum blonde, white, and grey hair can be extremely fashionable. Whatever your natural hair color or texture is, selecting the best new color for you will create an entirely different look that will complement your haircut.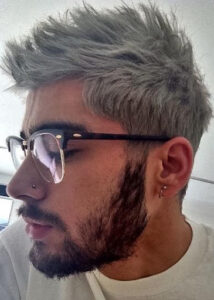 25. Short Fringe
So what's not to like about a fringe haircut? Fringes are fantastic because they can be added to any haircut, kept long or short, and adapted to suit various hair textures.
It has the ability to transform your appearance, making it more exciting and flattering to your facial features. Long, swooping fringes will get you noticed if you want to make a statement, but shorter fringes are much more wearable and will only require less time to style. You also don't have to be concerned about hair getting into your eyes.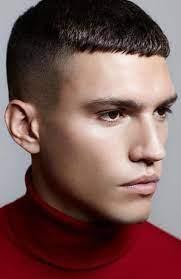 WHERE SHOULD YOU GET YOUR HAIRCUT?
Hair grows half an inch per month on average, for a total of six inches per year. That length is, of course, relative. It's not much for long hair, but a quarter inch is a lot of growth for a buzz cut or clear lineup.
The frequency with which you should get a haircut is determined by the style, length of your hair, and what you want. Maintaining a specific look necessitates a different approach than trying something new. Of course, there are times when it is a matter of finding the time and money.
While frequent haircuts are expensive, hair almost always styles itself. A longer hairdo may not need to be cut as frequently, but it usually necessitates daily styling and associated products. Long hair can be the most manageable, requiring little styling or haircutting. But don't forget to brush your hair.
Men are not as concerned with their appearance as women are. However, like women, many men understand the importance of always being well-groomed, especially those of you who want to make a good impression on others. In the case of men, being well-groomed includes getting haircuts on a regular basis. Tired of searching the internet for "mens hair salon near me"? well, the Kelture Aveda Hair Salon in Singapore is the best hair salon Singapore for guys that can provide you with a haircut! Make sure to experience the best men's hair salon Singapore and the best mens haircut Singapore!
Book an appointment with us.