Your luxurious hair is claimed to be your crowning glory. Thus it's natural that you need to enhance it if it is not to your liking. Try some of these natural remedies and salon treatments if you want to grow hair you have once lost. Also, you can enhance the standard of your existing hair. Salon treatment and DIY treatment have advantages that will stimulate growth and improve the quality of your strands.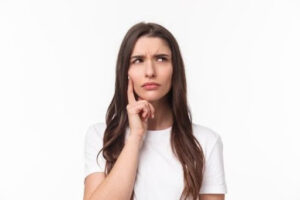 IS HAIR TREATMENT NECESSARY?
Do you exfoliate and treat your skin on a regular basis? Why wouldn't you do the same thing with your hair? It's considered skin, and taking care of it is essential for your scalp's overall health.
Treatments might help you get rid of dandruff and thin hair. You can buy products that will help, but many hairdressers make scalp treatments a regular part of their hair menu.
Have we persuaded you to think about it? Continue reading to learn more about these scalp treatments and how you can incorporate them into your hair appointment.
CAUSES OF HAIR DAMAGE
A variety of factors can cause hair breakage. Healthy hair requires an inner cuticle with overlapping scales that holds your strands together. When these scales fall off, your hair can become dry and split, causing damage. This causes breakage, as well as other symptoms like frizz and dryness.
Hair breakage can affect people of all hair types, from straight to curly. It can cause frizz or coarse hair at the ends or near the scalp of the head.
Most hair breakage is temporary, and people can use products and home remedies to repair and strengthen their hair.
NATURAL AND ORGANIC HAIR TREATMENT YOU CAN DO AT HOME
Are you looking for a cost-effective way to address pesky hair issues? All of these simple, low-cost DIY hair masks make use of everyday household items that you almost certainly already have on hand.
Some require the use of a blender, such as the egg and banana mask. At the same time, others are as simple as one ingredient that will restore your hair to its former glory. This is regardless of whether you have dry hair, fine hair, an itchy scalp, or dandruff.
There's no denying that your hair can appear damaged or dull for a variety of reasons. This could be swimming in a chlorinated pool in the summer or being exposed to cold, dry air in the winter.
When this happens, keeping your hair healthy (and keeping it that way) can feel overwhelming and stressful. And to the point where you may believe your only option is to visit a salon for a revitalizing hair treatment, which could cost you a fortune.
The good news is that you no longer have to spend a fortune on a trip to the salon! There are numerous DIY hair treatments that you can make for a fraction of the cost using ingredients that you most likely have in your kitchen.
Don't worry if you're not a do-it-yourselfer: We've also included shoppable options to help you with your hair problems. In either case, your hair will be lustrous in no time.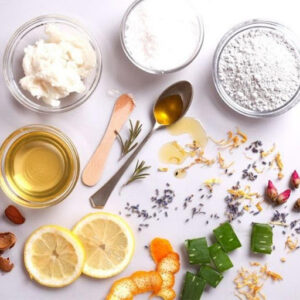 1. Remove buildup with apple cider vinegar and rosemary oil.
If your hair has been limp recently, there's a risk you have too much product buildup, but don't worry. You can revitalize your hair with this natural product removal.
Apple cider vinegar which contains strands of proteins, enzymes, and friendly bacteria, is required, according to Healthline. Rinse with a mixture of vinegar and rosemary oil. Apple cider vinegar and rosemary oil will clear out all filth and build up in your hair and braids.
2. Coconut oil for dry, damaged tresses
The solution to your problem is to hydrate, moisturize, and moisturize some more. If you don't care for your hair, split ends, frizz, and breakage are only a hair away. If your regular conditioner isn't cutting it, invest in a revolutionary overnight treatment.
People who believe in the healing properties of coconut oil recommend spending a lot of money on shampoo. While on the other hand, saving a lot of money on deep conditioners. It's the thickest oil with the ability to penetrate two layers of the hair shaft.
Take a tablespoon of coconut oil and reheat it in the microwave before massaging it into damp hair and sleeping on it. To avoid a greasy mess, use a shower cap and place a towel on your pillow. Shampoo it out in the morning. Use coconut oil just on dry, damaged areas from the mid-shaft to the end of the shaft. Choose a lighter oil, such as olive or avocado, as coconut oil can weigh strands down if you have more delicate hair.
3. Make your hair smoother with rice water
People in the late centuries thought rice water could make your hair healthier. And also more beautiful because of the starchy water left over after removing the grain. It has numerous vitamins, vitamin E, amino acids, B vitamins, and minerals. And it makes hair firmer, smoother, and more lustrous.
To prepare, measure one cup of uncooked rice and thoroughly rinse it. After that, add 3–4 cups of water and set aside for 30 minutes. Strain the rice water into a clean spray bottle when the timer goes off. Plaka recommends shampooing and rinsing your hair with the same shampoo you typically use. Then, spritz the rice water on your hair and scalp and massage it in. You need to leave it in for 20 minutes, then rinse it off. It is no longer necessary to apply a conditioner.
4. Molasses and honey for messy waves or curls
Instead of fighting your hair's natural bends, use a DIY curl enhancer made of molasses and honey to define them. Honey and syrup have natural ingredients that attract and keep moisture. These ingredients can be used to cure curls while also moisturizing dry hair, according to Davis-Sivasothy.
Combine a half-cup of molasses or maple syrup. Then add 1/4 cup olive oil, four tablespoons of honey. Also include two bananas, half-cup of water, four tablespoons of lemon juice. And two teaspoons of all-purpose flour in a mixing bowl (adjust according to desired thickness).
Warm over the burner after mixing the items and removing any lumps. Separate your hair into four sections. Evenly apply the delicious concoction, and cover with a shower cap; let on for 45 minutes and then thoroughly rinse.
5. Revitalize your hair with bananas
Bananas are well-known for their nutritional value and high potassium content, which aids in body regulation. All of these advantages combine to make bananas an excellent choice for hair masks. Bananas include the mineral silica.
According to Healthline, it helps your body create collagen, which can make your hair stronger and thicker. A banana hair mask is also said to hydrate hair and soothe an itchy, dry scalp.
To make, combine two ripe bananas and half a cup of coconut milk in a blender. Coat your hair with the mixture and leave it on for 30 minutes before washing it out.
SALON HAIR TREATMENT YOU CAN AVAIL AT KELTURE AVEDA HAIR SALON IN SINGAPORE
Dyeing or styling your hair indeed causes it to become dry and dull. But you can rejuvenate, feed, and strengthen your hair with homemade hair treatments. They are not only readily available and inexpensive, but they are also naturally beneficial to hair care.
Suppose the at-home treatments aren't performing as effectively as they once did. Hence, it's time to visit the salon and discuss your options with the stylists.
A dermatologist can help you recover in ways you couldn't achieve independently. Such as with acne treatment or frequent facial therapy. As a result, consulting a hair specialist can be advantageous on occasion.
Hair salon professionals can inspect and assess the state of your hair and scalp first. They can evaluate your hair's demands and make the most acceptable recommendation.
Additionally, hairdressers have access to tools and equipment that you do not. Visiting a hair salon is the best way to acquire thicker, shinier, and longer-lasting hair.
Salon treatments are designed to nurture hair inside out, cure and protect the scalp, and encourage hair growth. Continue reading to learn more about the various treatments available and choose the best one for your hair type.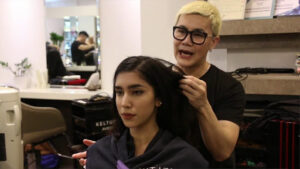 1. Treatment with Keratin
Do you want to be victorious in your fight against frizzy hair? Keratin Complex has been a known hair smoothing service for about ten years, and it can produce smooth results for several weeks.
Keratin treatments are answered prayers for people living in Singapore who want to control their frizzy hair. Living in a country where extreme humidity is the norm can be a hassle.
Keratin treatments promise sleek, smooth, and lustrous hair, making them a must-have salon experience for many.
If you have stubborn frizzy or curly hair and want smooth results without using flat irons or style tools at home, keratin treatments are the way to go.
Keratin is a protein that can be located in the skin, hair, and nails. Keratin treatments are typically performed in salons. This strengthens hair and prevents frizz, heat damage, and breakage, resulting in straighter strands.
On the other hand, a salon keratin treatment is a semi-permanent chemical technique that straightens and smoothes hair. A regularly used formaldehyde solution is administered to damage the hair's structure. Then the hair is resealed with heat-styling tools. The treatment's effects typically last up to six months.
There are two techniques to apply a keratin treatment to the hair, and it's essential to grasp the differences. A simple keratin smoothing treatment can penetrate the cortex of your hair, delivering shine and silky hair for up to six months.
2. Scalp treatment
Scalp treatments are one of the most underappreciated salon services. Consider this: if you want healthy hair, doesn't it make sense to nurture the foundation at the base of your head? Various people suffer from poor scalp health.
But there are many ways to treat and prevent it while simultaneously enjoying the pampering element of a salon visit! Getting a scalp treatment has numerous advantages.
Due to a lack of moisture, your scalp may be dry and itchy, and the dead skin that flakes off may also be dry. In this instance, an in-salon scalp treatment can be a helpful service. This improves scalp oil production and hair development while also making you feel amazing.
The scalp treatment is typically unclogging hair follicles and releasing natural conditioning oils. Furthermore, they increase blood flow, allowing nutrients to reach the scalp and better nurture your hair.
A healthy scalp is a foundation for good hair. As a result, a growing Japanese scalp facial fad is gaining traction.
3. Hot Oil Treatment
Hot oil treatments are one of the popular choices for preserving and restoring dry, fragile hair. Hot oil hair treatments and other hair mask products aren't just for the winter months; they can be used all year and are suitable for all hair types!
Hot oil treatments treat your hair like a spa, strengthening each follicle and preventing dry, brittle hair and broken ends.
Hot oil treatments are also beneficial for stimulating blood flow and promoting hair growth. Hot oil treatments for hair have several advantages that can help with a variety of hair care and styling difficulties.
Hot oil treatments produce silky, moisturized, and smooth hair by adding instant shine and sealing the cuticle. This salon hair treatment, generally left on the hair for 12-20 minutes before being rinsed away, can quickly repair dry and damaged hair.
Dry, colored hair responds well to hot oil treatments. The length of time you leave them on, how often you apply them, and how much you apply them all depend on your hair's state.
4. Moisture treatment
Hair, like the rest of your body, needs protein to keep healthy. Your hair may require a protein treatment if it seems limp or weak.
Protein treatments provide a boost of nutrients. And proteins to the hair, assisting in the reconstruction and strengthening of hair strands.
Protein-rich strands are an excellent way to maintain your hair's overall health and keep it in the best possible condition.
A moisture protein treatment is a kind of deep conditioning treatment that should be done in addition to a regular hair care routine.
It protects against breakage and split ends by strengthening, detangling, and detangling the hair. It can also prevent your hair from heat style damage if you use it on a regular basis.
These treatments are also beneficial to those who intend to color, lighten, or chemically texturize their hair. You may help strengthen the base of your hair and make it a healthier canvas for your color by getting a protein treatment before chemically treating your strands.
It penetrates the hair shaft thoroughly, giving nutrients and proteins to aid in hair growth. It also acts as a protective outer layer, shielding hair from everyday wear and tear and environmental contaminants.
The moisture treatment process might take anywhere from 15 to 30 minutes. But this depends on the condition of the hair and the desired outcome.
5. Detox Treatment
When was the last time your scalp was cleaned? We're not talking about how long it's been since you washed your hair.
Our scalp, like our bodies, absorbs whatever we put on it. They accumulate over time, wreaking havoc on the scalp's delicate environment. As a result, detox treatment is required to eliminate all harmful poisons and restore balance thoroughly.
Excessive product use or toxins like chlorine promote buildup on the hair shaft, which detox hair treatments erase. A detox treatment clarifies the hair shaft and can encourage hair growth, improving the health of the hair and scalp.
We all use the term "buildup" as a bad word. Detox treatments will cleanse and add body to your hair and remove impurities that make it look lifeless. Detox treatment is best for you if you use many styling products or skip shampoo a few times a week.

SALON TREATMENT VS. AT-HOME TREATMENTS
You've probably heard that home remedies are preferable to visiting a beauty salon. Is this correct? Do you genuinely believe that at-home treatments are superior to those received at a salon?
Natural cures or home treatments are, without question, the greatest for your skin and hair, but only if you know how to apply them properly. You can't say that home treatment is superior to salon treatment because it uses natural components.
Although it may be a little more expensive, you can seek guidance from hair professionals who can identify what your hair requires at a salon.
There are a variety of DIY hair treatments available. However, they may not be suitable for your hair. Using a product with too much protein, for example, can have the reverse effect.
At-home treatment can be an excellent way to pamper yourself if you're short on time, which pretty much everyone is. But the benefit of having it done at a salon is that the treatment will be appropriately applied. Also, you'll get an excellent head massage.
You may obtain poor effects if you don't know what ingredients to use and in what proportions. As a result, rather than doing beauty treatments at home, it is always required to attend a beauty clinic.
It would be best if you never undertook any beauty treatments at home unless you are a professional with a detailed or complete understanding of natural remedies to use at home.
Many people believe that going to a salon is pointless and a waste of money and effort. But, if that's the case, why are Singapore's beauty and grooming sectors booming?
Salon treatments are the finest for your skin, hair, nails, and general body beauty. For best hair treatment Singapore you can contact us
Phone
+(65) 6735 6468
Mail
contact@kelture.com.sg
Address
#05-07 Paragon, 290 Orchard Road, Singapore 238859
Book an appointment with us.