If you're blessed with a round face, you might think long hairstyles aren't for you. Long hair can be a fun, low-maintenance way to add some flair to your look, but sometimes long styles don't work well with your face shape. If you have a round face, you may unintentionally hide its best features. When this happens, it's essential to know how to change up your hairstyle to add length and volume in just the right spots. Long hair can be a woman's best friend. It can frame a face, accentuate the neck, and flatter any individual. It can be hard to find one that flatters your face when it comes to hairstyles. Besides being cute, what matters the most is how flattering a hairstyle is to your face shape. And let's be honest — face shapes are complicated. There are so many variations, and each combination comes with its own set of problems and issues. You'll find plenty of tips and styles below to help you realize that you have as many options as someone with an oval or a square face, even with a round face.
1. Long Layers with Cappuccino Highlights
Long layers with cappuccino highlights are the best option for round faces. The long hair and the side-swept bangs help to lengthen the face and make it look slimmer and more oval-shaped. Cappuccino hair color is a blend of warm brown and rich beige with a kick of light brown thrown in. It's an excellent choice for the lady who wants highlights without maintenance. Cutting your hair into layers will give you a more structured look. Long and straight layers will also help slim down your face, especially if you have a round face and chubby cheeks. It can give you a fresh look and make you appear younger. You have to chop off your hair from the front and keep it long from behind to get this style. This makes your face look thinner. You also have to add some cappuccino highlights to make your hair look more attractive and shinier. The haircut suits all hair types, but it is better for thick hair. If you want to make it look more attractive, you can go for side bangs as well. Cappuccino highlights are one of the most beautiful highlight tones, and they work well with long layered haircuts. They go great with all skin tones, but they're incredibly flattering on dark skin tones or darker locks because they create a beautiful contrast that brightens up the complexion. It's easy to add high and low lights to your cappuccino hair color, and if you want to change it up, you can easily add some red or blue tones.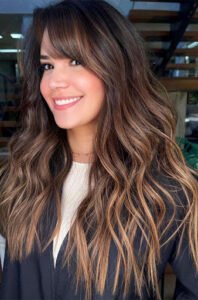 2. Soft Wavy Hair
Soft wavy hair is perfect for this as you can wear it either up or down and achieve the same results. The gentle waves create a level of volume at the top that stretches your face out. While this style works best with naturally wavy hair, you can also achieve it with a curling iron or flat iron if you have a round or square face shape. For this hairstyle, you want a medium-length cut with soft layers. A chin-length cut is perfect for this as long as you don't have any shorter layers that will stick out at the bottom and make your face look wider. If you have shorter pieces on the sides, be sure to tuck them behind your ears. To achieve the soft waves, you can use a large barrel curling iron or wand. Once curls are set, brush through the hair with your fingers to get a more natural and undone look. You can curl your hair or let it air dry to get soft wavy hair. If you want to curl your hair:
Use a 1-inch curling iron and wrap one-inch sections of hair around the barrel.
Hold for ten seconds and release.
Spritz with hairspray to hold the style.
Just let your hair air dry in loose braids or buns to create waves by air drying. Try a deep side part if you have straight hair and want to add some volume at the top. This is a perfect hairstyle for round faces because it creates height on the crown to balance your face shape. To style, part your hair deeply to one side and then loosely pull it back into a low ponytail or bun.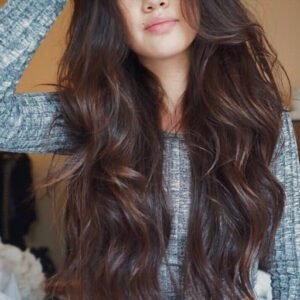 3. Long Afro Haircut
Long Afro Haircut is perfect for women with round faces. The long afro haircut looks great on most women, regardless of their hair type. This style works well with a variety of face shapes, including square and oval, and heart and diamond-shaped faces. It also works well with most skin tones, ranging from pale to dark. Afro hairstyles are one of the most popular hairstyles among black women. This hairstyle is not only suitable for black women but also white women. They can look beautiful in any style and can be an excellent option for you if you are looking for an easy and simple hairstyle to wear. People with curly hair have many options when it comes to their hair. There are many different afro hairstyles that people with curly hair can wear. One of the most famous afro hairstyles is the afro haircut. This is because this style looks good on almost all faces and can make a woman's face look slender and beautiful. One of the things that make the afro haircut so popular is that it does not require any chemical treatments to maintain its appearance. Many people who wear short Afros do not use any chemical products to achieve their desired look. Instead, they choose to wear their natural hair in its natural state. This gives them a natural look that many other hairstyles cannot provide. Because the afro haircut is so versatile, it can be worn by virtually anyone. It can be worn as a traditional Afro, or it can be worn in a more contemporary style.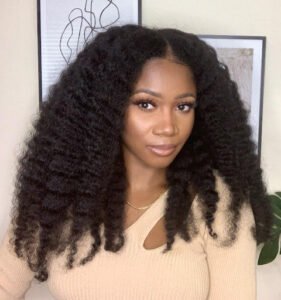 4. Asymmetrical Lob
An asymmetric lob haircut is a modern take on the classic bob. Asymmetrical haircuts are exciting and can flatter almost every face shape if done correctly. Lob stands for long bob, and it's one of the most popular hairstyles because it's very flattering for all women. It's also one of the safest hairstyles that never go out of style. Asymmetrical haircuts are versatile and can be worn straight or wavy. If you have a round face, an asymmetrical bob will help frame your face by drawing attention to your cheekbones and lengthening your face shape. You may think that an asymmetrical cut is too edgy and dramatic, but there are many ways to style this haircut so that you can wear it to work or on special occasions. Many celebrities wear this haircut, like Victoria Beckham, Katie Holmes, Jessica Alba, Jennifer Lopez, etc. The asymmetrical lob haircut is the best choice for a woman who wants to make her look gorgeous and chic. This haircut allows you to create various looks, from simple to sophisticated ones. So, if you decide to get an asymmetrical bob haircut, you should know how to style it properly. You can use different curling irons or straighteners to create different looks. Also, don't forget about using gel and hairspray that will help you to fix your hairstyle all day long. The lob is a versatile hairstyle that looks good on various face shapes.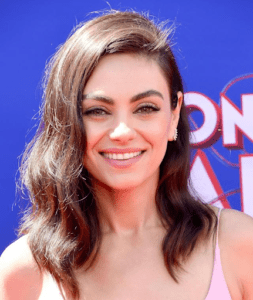 5. Straight Side Part Bob
A straight side part bob is perfect for women with round faces. The sleek look of the cut and style gives a slimming effect to the face and the hairline. This look is best achieved on fine straight or wavy hair. Consider a straight side part bob if you have a round face. Avoid the middle part as it will emphasize your round cheeks. If you want to draw attention away from your cheeks, go for a deep side part like the one pictured. A long bob is perfect for women with high cheekbones because it'll highlight your features and pop your cheekbones. A chin-length lob is an ultimate cut for women with heart-shaped faces. It's the ultimate haircut that can make any woman look younger. A short pixie cut is another great option for women with heart-shaped faces because it can add balance to your rounder jawline. If you're looking to soften your jawline, consider getting a messy wavy lob with bangs just below the eyebrows. To achieve a straight side part bob, you will need a good pair of hair shears, a rat-tail comb, styling gel, and mousse. First, wet down your hair thoroughly with warm water. Towel it dry until it is damp but not dripping wet. Next, apply a tablespoon of styling gel to your hair and comb it thoroughly to distribute throughout the strands evenly. Then, apply about half as much mousse to your hair as you did styling gel, and comb it through again until your hair is evenly covered with both products.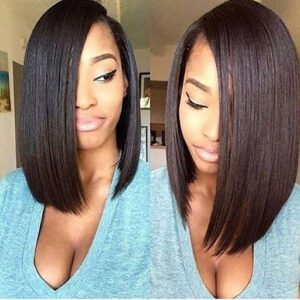 6. Side Undercut
The side undercut is perfect for women with round faces because it adds height to your head and makes it appear longer. You can choose any design and take the style up a notch if you have a round face. You could choose a simple undercut or add some designs to it. If you have short hair, plenty of short haircuts will work. First of all, you should consider getting a layered bob haircut that has shorter layers on the sides. This will make your face look longer and more proportioned. A side part helps frame the face well, especially if you have an oval-shaped face. The layers of the shaggy cut make it an ideal hairstyle for women with round faces. This hairstyle is perfect for women with round faces. It will draw your face to look less round. You can use this hairstyle in many ways, like making a ponytail or half-up half-down. You can also use many accessories to make this hairstyle more attractive. Accessories such as hair clips, floral pins, and headbands can be used to decorate your side undercut hairstyles.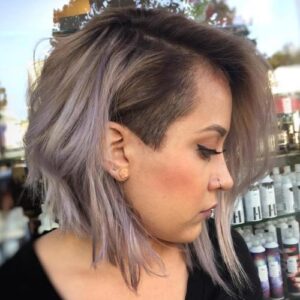 7. Long Waves
Long Waves is perfect for women with round faces since it adds length to the face. This style looks incredibly impressive on women with thick, straight hair. To get this look, use a large-barrel curling iron to curl one-inch sections in alternating directions (toward and away from your face). Use a flat iron to smooth any frizzies. Brush out the curls and mist with a light-hold hairspray. If you have thin, fine hair, try using a volumizing mousse or spray before curling. For added volume, tease your crown slightly. If you have thick hair, use a smoothing serum to reduce frizz. This style works best on hair that's medium-long to long. If you're growing it out from a shorter cut, you can use clip-in hair extensions for added length and volume. Long Waves is the best option if you like the idea of long hair but feel it may look too severe on you without softening it up. This style is also a good option if you are starting to think about adding some layers to your long hair but aren't ready to take the plunge into a full layered style. If you have naturally straight hair and want to add somebody and movement, this is a great way to achieve that while still keeping your length. You can also add height by styling your hair with a volumizing root lift spray, allowing you to use a medium barrel curling iron to create waves. The extra volume on top helps balances out your face's roundness by giving it more dimension.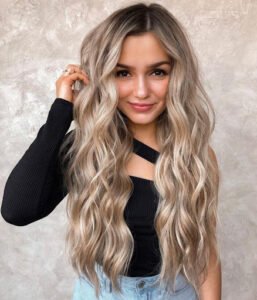 8. Curly Blonde with a Side Part
If you're looking to make a statement, you'll want to try out the Curly Blonde with a Side Part. This look is perfect for women with round faces as the middle part helps elongate the face and creates more of an oval shape. The style also uses highlights and lowlights to frame the face, making it pop even more. If you love this look but aren't sure if it will work for your hair texture, you should try some hair extensions. Not only will they help you see if the style is for you, but they can give you the confidence to try something new and different. A side-parted hairstyle can be flattering and trendy, especially when you have long hair. You can create a deep side part on your own by using the tail of a rat-tail comb to draw a line where you want your part to start, then combing all your hair to the opposite side of the part. Once you get this style down, you'll be able to create it in minutes. Part your hair in the right place. You must identify where your natural part falls before creating your deep side part. Run a fine-toothed comb through your hair and find where there is less resistance as you move down from your forehead back into your crown. This will help you find where the rest of your hair naturally wants to fall. A side-parted style is excellent for a round face. This can be as simple as a one-length bob with a deep side part. A sleek bob with blunt-cut ends that fall below the jawbone is an excellent choice for women who want something short. Another option is a mid-length cut with long layers and a side part, which adds body and fullness to fine hair. Women with thick curly hair may prefer to have their long locks styled straight with bouncy curls at the ends for added body and movement.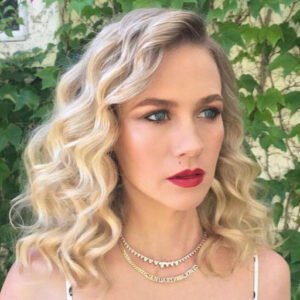 9. Fearless Fringe
The Fearless Fringe is perfect for women with round faces. The bold and long bangs draw the eye to the middle of the face and away from the cheeks. This style is flattering on women who like to showcase their eyes but are not so bold or daring to go for a full fringe. The side part also makes this look very versatile for work or play. The shaggy layers in this cut add movement and volume to the hair, making it perfect for shoulder-length hair that may otherwise be flat and lifeless. This cut works best in medium to thick hair since there is no added structure or shape. Ask your stylist for an extended layered cut with blunt bangs that hit the brow or above to achieve this look. You can also ask your stylist to include some textured layers if you want more movement and volume, though that will mean more styling time every day. This cut looks best on naturally straight hair. To style it, apply volumizing mousse to damp hair before drying with a round brush and an ionic blow dryer, which helps eliminate frizz and add shine. Make sure your bangs are completely dry before using a flat iron to smooth them out. The Fearless Fringe is an excellent choice for women with curly hair because it's easy to style and maintain in between salon visits. To style your hair like this, you'll need to spritz damp hair with a bit of texturizing spray. Next, blow-dry your hair with a large round brush until it's scorched. You can use curling irons or hot rollers to create additional volume if needed. Finally, finish your look with a bit of volumizing hairspray to keep it in place all day long.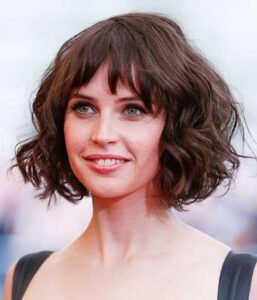 10. Long textured hair with curtain bangs
Curtain bangs are one of the most popular fringe styles at the moment, and it's not hard to see why. They're long enough to style in various ways but short enough to avoid the problems with longer fringe (ahem, looking like you have a fivehead). Plus, they're flattering on just about every face shape.
Curtain bangs
are a great way to add a fringe to your hairstyle without fully committing to a blunt cut. The curtain bangs trend is a look that has been around for some time and has gotten more popular over the years because it is an effortless style to achieve, maintain, and keep looking great. It tends to look best on women with long, textured hair and round faces—although it can work for anyone who likes the look! The curtain bangs trend is one of the most versatile looks out there because it can be worn straight or curly, parted down the middle or off one side. To get the look, you have to simply part the front section of your hair into two parts. You can then choose whether or not you want to have a center or side part. You can part your hair straight across or slightly off-center. The key is to make sure that when you part your hair in this way, you leave enough space between each side so that your bangs will not stick together when they are dry.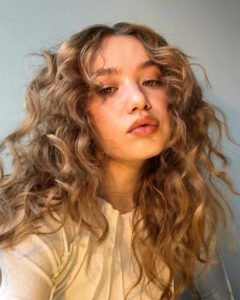 Conclusion
If you want a nice haircut that can flatter your round face in Singapore, never hesitate to book an appointment at Kelture Aveda Hair Salon. They are a popular hair salon in Singapore well-known for their professional and customized haircut services. As one of the most famous haircut salons in Singapore,
Kelture Aveda Hair Salon
has provided high-quality haircut services for every customer since its establishment. Their team is fully equipped with the best skills and knowledge to create different hairstyles that can suit you regardless of your face shape, skin tone, or personality. They are different from other hair salons in Singapore because they always offer professional advice before cutting your hair, so you can be sure that you will achieve the perfect look for your overall appearance. In addition, you will also not have any problem when maintaining your new hairstyle because they will provide you with a complete set of instructions on how you can do it properly.