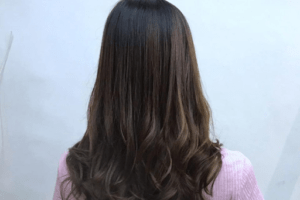 Many people have learned about the wonders Korean skincare products can perform on your skin. But did you know there's more to Korean skincare than just their serums, cleansing oils, and creams? I'm talking about their hair. Their hair products are a game changer in the beauty industry and could be what helps you have the most luscious locks ever.The Korean hair trend has taken the world by storm in recent years.
As the demand for application methods increased, perm hair has emerged as one of the most popular hair products. It's gained popularity because, unlike the heat application, which takes a while to dry and can cause severe damage to your hair, it works on contact, and the process is faster. Several brands promise quality products, but it is hard to find out what we can get best from them.
What Is Korean Perm?
Korean perm is a chemical treatment that uses chemicals to straighten hair. It's different from Japanese and Brazilian perms, which use heat to straighten hair, and Chinese and Indian perms, which use chemicals but no heat.
Getting a Korean perm involves applying an alkaline solution to your hair, then wrapping it in foil or a plastic cap for 30 minutes. You then wash out the answer and shampoo your hair. The blow dryer then sets the new shape of your hair for days or weeks until it naturally grows out.
Korean perms are often confused with Japanese perms, which are similar but not identical. A Japanese perm uses heat and chemicals to straighten your hair, while a Korean perm only uses chemicals to straighten your hair temporarily.
Korean perms can take anywhere from two to six hours, depending on how long your natural curls are, how much they need to be straightened and how fast the stylist works.The treatment can be done at home or by a professional stylist, usually lasting up to six months. The results are often dramatic — sometimes even shocking — but the process can damage your hair and scalp if done incorrectly.
Types of Korean Perm
S CURL
S CURL perm is a new type of permanent hair curling technique that gives you the perfect curls without damaging your hair. It uses a special iron that makes curling your hair manageable and convenient. The S CURL perm is also less expensive than other types of perms.
The S CURL perm was developed by a team of scientists in Japan and Korea. It takes about 30 minutes for the process to be complete, and it can be done at home by anyone with enough time to spare. This procedure will give you beautiful, bouncy curls for several months.
This form of perming will not damage your hair's structure or cuticle layers like other types of chemical treatments. You'll also have better control over the shape and style of your curls because you'll know exactly what kind of results to expect every time you use this treatment on your locks.
C CURL
C CURL perm is a permanent treatment that uses heat, chemicals, and pressure to straighten the hair. It's an excellent option for those who want to wear their hair curly during the week and straight on the weekend.
C CURL perm is also known as Brazilian Straightening. It's a chemical process that straightens the hair and lasts up to three months. The treatment is done in three steps:
1) Smoothing Treatment – This step loosens the curl pattern of your hair with a relaxer, which temporarily softens it. The relaxer is applied all over your head but not near the roots. The lengthier this step takes, the straighten your hair will be when you wash it out later.
2) Neutralization – After you wash out the relaxer, this step neutralizes any leftover chemicals with an alkaline solution that restores your hair's natural pH balance, which makes it harder for new curls to form again later on.
3) Straightening Treatment – In this final stage of C CURL perm treatment, your stylist wraps each strand of hair around curlers heated by an infrared lamp before applying heat from another source like a blow dryer or flat iron (depending on how much heat you want).
KOREAN LOOSE WAVE
Korean Loose Wave is a type of permanent hair perm that offers loose waves with minimal tightness. It is ideal for those who like a more natural look as it does not require frequent visits to the salon.
The process involves using chemicals to break down the bonds in the hair and reform them into a new shape. The result is soft, natural-looking waves or curls that you can wear every day or when you want an effortless style change.
Korean loose wave is a type of perm that uses organic keratin protein to curl the hair. It is a permanent hair wave, but it can be removed by the light application of alcohol or other chemicals.
The big difference between the Korean loose wave and the Brazilian loose wave is that the Korean loose wave is made from natural ingredients. In contrast, the Brazilian loose wave is made from chemical ingredients.
Korean loose waves have a longer lifespan than Brazilian loose waves because it uses natural ingredients, which are better for your hair. The only downside to Korean Wave Perm is that it takes at least two hours for your hair to be processed. If you want to get rid of your tight curl in just a few minutes, then go with Brazilian Wave Perm instead!
KOREAN BEACH WAVE
Korean Beach Wave Perm is a beautiful and natural hairstyle created by the Korean beauty trend. It is a popular long-lasting hairstyle that gives a natural, beachy look. The beach wave perm is an excellent option for those who want a natural-looking hairstyle with less maintenance.
The Korean beach wave perm includes a wash-out treatment that will give your hair volume, bounce, and movement. This is followed by blow-drying to set the curl. The final result is gorgeous hair that has been smoothed out but has a natural beachy look.
You can have this treatment at home or your local salon or barbershop. The best way to achieve this look is to use products that contain keratin or collagen as their main ingredients. You can also use coconut oil products to help protect your hair from heat damage during styling.
The Most Popular Korean Perms & Wavy Hair Styles.
Long Layers
This is a haircut that looks like a long bob with more layers. It's an effortless, quick style that can be worn straight or curly, and the layers add some texture and movement. The first thing to consider when choosing this look is your face shape.
If you have a round face, you'll want to try a wavy long, layered hairstyle with bangs to balance your face shape. If you have an oval-shaped face, you can rock this style with no bangs! If you don't know how to cut layers into your hair, ask your stylist for help. They will create long layers in different directions for added volume and movement.
Use a soft-bristled brush (or your fingers) to brush through these layers after they're styled, so they fall in place naturally! Long layers are an excellent option for those looking to soften the look of an asymmetrical haircut. Wavy Long Layers are a great way to get a layered look without losing length.
If you have wavy hair, this style is perfect for you. It's easy to achieve and looks great! If your hair is straight, the process is similar, but the result will differ. You can still create long wavy layers with straight hair, but it might be easier if you already have some natural waves in your locks.
Wavy Long Layers are perfect for all haircuts, especially ones that need some softening. The best thing about this style is that it works well on all face shapes and hair lengths!
Medium Length Layers on Long Hair
Long hair is one of the most desired hairstyles for women. It can be worn in various ways and looks great with any face shape or skin tone. If you have long hair, there are many ways to style it. One way is to cut it into layers and waves.
This is a perfect hairstyle for women who want to add layers to their long hair. It is a layered cut, which makes it easy to style and maintain. The layers are arranged in a way that is wavy and has volume. The hair color is dark brown. This look would be perfect for people with oval faces, as it will complement their facial features.
Wavy medium-length layers on long hair are a perfect hairstyle for women who want to add volume to their locks without having to get many layers cut in. This style adds movement to your hair's ends and helps it look thicker than it already is.
To create this look:
Start by applying a heat protectant to your hair.
Divide your hair into two sections and clip one side back.
Take the other section of hair and run a flat iron over the top of your head to smooth it down.
Next, use a curling wand to curl one-inch sections of hair from the root down to the tip of your locks. Once you've done that, brush through each section with a soft bristle brush to loosen up your curls and make them look more natural. Finally, mist your newly styled strands with a flexible hold hairspray and finish with some light-hold hairspray for extra shine.
Voluminous Wavy Haircut
Women with wavy hair can easily add body, volume, and style to their natural curls with a wavy haircut. The voluminous wavy haircut is a simple shoulder-length style that can be worn straight or with the waves pulled back into a ponytail. The cut boasts soft layers to give the hair a more voluminous appearance.
Women with wavy hair will also want to consider other wavy haircuts, such as the shoulder-length layered bob, which has long layers throughout the entire hair length. This is another simple hairstyle worn straight or with a slight curl at the ends.
The voluminous wavy haircut is a great way to add volume and texture to your locks. The stylist will curl the hair in long, loose waves in this look. This cut can be worn with natural or colored blonde hair.The best thing about this style is that it works on all face shapes! You can wear it straight, curly, or wavy, depending on your mood and what you want to do with your hair.
If you have layers in your hair, this style will help define them better and make them look more natural. The best tip for styling this haircut is to use a good conditioner before blow drying it on high heat (with a diffuser).
Here are some tips for styling wavy hair:
Use a straightener on damp hair. If you want your waves to stay sleek, use a flat iron on wet hair before styling with heat. The heat will keep the waves in place all day long.
Use a curling iron on dry hair if you want curls that last all day long. If your waves are naturally curly, try using a curling iron on dry hair left out overnight to give it soft curls instead of frizziness!
Use a round brush to add volume to your wavy locks. Brush through the ends of your hair while blow-drying it with a round brush, then flip your head over and dry underneath by brushing back up toward the roots again!
Long and Bouncy Cut for Wavy Hair
A long and bouncy haircut for wavy hair is a style that gives your locks a soft and romantic look. It's ideal for women with thick or medium-sized hair waves. This is an excellent option if you want to add volume but don't want to go short.
The "long" part means that this cut will leave extra length on top of your head, which can create more volume when it's styled properly. The "bouncy" part means that this style will have layers, which make movement and bounce at the ends of your hair. The best way to achieve this look is by using heat tools like a curling iron or flat iron.
This type of haircut has many variations, but they all have one thing in common: They are all longer than shoulder length with lots of layers. These cuts also typically have some layering technique used during styling, whether it be curling or flat ironing techniques (or both). The result is lightness, movement, and bounce at the bottom of your locks!
If you have wavy hair, you know that it can be a bit of a challenge to cut. You may love the way your waves look when they are long, but as soon as you try to wear them short, they become a tangled mess. The cut is the secret to getting the most out of your wavy locks. A long and bouncy amount for wavy hair will create volume and bounce in your curls, making them easier to manage.
If you have long wavy hair, this style will help give it some pizazz. The layers add movement and texture while keeping it long enough to look polished and professional. This style works best on fine hair with nice natural waves and soft curls.
However, if your hair is thick or coarse, it will not work well for you because it requires somebody to work magic! If you have coarse or thick hair (or want a more dramatic look), we recommend trying this gorgeous style instead!
Curtain Bangs
Wavy Curtain Bangs are the most popular bangs that you can find today. They are made with a unique technique to create waves and curls on your hair. Depending on your preference, these bangs can be easily styled using a curling iron or even a flat iron. You may also use some hair products to enhance its texture and color.
Wavy curtain bangs are ideal for those who have thin, straight, or thinning hair as they can add volume to your hair. The best thing about this hairstyle is that it looks great on any face shape and age.Some people opt for wavy curtain bangs because they are not very expensive compared to other types of bangs, such as blunt ones or side-swept ones. Also, they do not require much time and effort to style, which is why many women prefer them over other types of bangs.
This type of bang is ideal for people who want to wear their hair down but do not want it to always fall into their eyes. Since these bangs hang over one eye, they will provide enough coverage for you to still see what is going on around you without having trouble with your eyesight at all times!
How to Style Wavy Curtain Bangs
1) Prepare your hair by washing it with warm water and shampooing it with a gentle cleanser. Rinse thoroughly, then dry with a towel.
2) Cut your hair into four sections: two on each side, top, and bottom.
3) Take one section from each side of your head and divide it into three pieces (like cutting out a triangle). Clip these sections up, so they don't get tangled while you work on other areas.
4) Starting at the corner of each eye and working toward the middle of your forehead, take one piece from each side and brush it back toward the crown of your head. Secure the ends with bobby pins, so they stay in place while you work on other areas
Where can you get a Korean perm in Singapore?
Korean Perm Hair is a popular trend that has been around for a long time. This type of hairstyle has been seen in K-pop, K-dramas, and other Asian media. It's a great option to try something new and different.
Korean Perm Hair is a soft wave that follows the natural shape of your head. It can be done on any length of hair, but it looks best on short to medium-length hair. The waves are usually loose and relaxed, but some stylists will add some body to the waves if needed.
There are many ways to get Korean Perm Hair in Singapore at Kelture Aveda Hair Salon. The simplest way is to have it done by one of our stylists at our salon here in Singapore. However, suppose you want to save some money.
In that case, you can also have this done at home with our professional products like Japanese Thermal Protection Cream Heat Protectant Spray. Or Japanese Thermal Protection Cream Heat Protectant Spray for Curly Hair, which will help prevent heat damage from using tools like curling irons or straighteners on your hair so that it remains healthy even after getting it permed.
Conclusion
Korean hair has become the latest trend in the global beauty industry. They're considered top-quality due to their health condition, as well as easy-to-style and highly durable curls and waves. These aesthetic traits are known to attract a significant number of customers because they do not quickly lose their beauty through usage. The procedure is quite simple, as it doesn't require cutting and only involves chemical processing on the hair.