You probably binge-watched everything there was to watch during Lockdown. The unexpected discovery of Korean dramas, also known as K-dramas, was one of the best additions to your binge-watching. When the massive success of the boy band BTS is considered, K-pop fever has reached an all-time high. Naturally, fashion entered the picture, and you couldn't take your eyes off those locks.
It is difficult to deny that Koreans are true trendsetters. They are the driving force behind some of the most important global trends in everything from K-beauty to K-pop. There are Korean layered hair and hairstyles available! Like many Korean fashion trends, these hairstyles are sleek, modern, and flattering on a variety of face shapes.
Korean hairstyle women are flawless and fabulous, just like the Korean beauty industry. They are incredibly creative and can add a tender look to your persona, or they can look edgy in an unexpected way; you never know! In either case, we are here to assist you. We'll go over some of the best Korean hairstyles for girls that will completely transform their appearance.
Korean hairstyles are popular for a variety of reasons (not just among celebrities), and we have five reasons to convince you to cut your hair.
REASONS WHY YOU SHOULD GET A HAIRCUT
Don't be afraid to be unique 
Korean hairstyles are inspiring because they take hairstyling in an entirely new direction. They're not afraid to experiment, so if you're looking for a trendy "out-there" haircut, these styles are ideal.
Combining the old and the new 
Korean hairstyles take inspiration from classic, vintage haircuts but give them a fresh, modern twist. As a result, this lookbook contains both classic and outrageously trendy hairstyles.
While some of these Korean hairstyles are pretty elaborate, the majority are very simple to maintain. After you've had your hair cut, it'll be simple to style it correctly every morning. Almost too easy!
Korean hairstyles are never over-the-top. When you're sporting your new Korean hairstyle, you'll never appear 'extra.' The trick is to find a hairdresser who understands how to style your chosen hairstyle properly.
The lines between "boy" and "girl" haircuts are blurred and flexible in Korean hairstyles. You have a lot of leeway in selecting a haircut that suits your tastes while remaining fashionable.
TOP 25 TRENDY KOREAN HAIRSTYLES 
Korean girls are well-known for their stunning beauty. Korean beauty trends are serious business, from flawless glass skin to popsicle-stained lips, and they are always worth trying because they are simply stunning. If Korean skincare routines and makeup trends aren't enough for you, take a look at Korean hairstyles for girls. The chic, sophisticated styles, as well as the quirky, vibrant, yet totally wearable ones, will take your breath away.
Most Asians have the advantage of being born with beautiful silky black strands when it comes to hair. However, this does not prevent them from using scissors or hair dye. In fact, many of the newest and most daring styles are inspired by the Asian beauty, so scroll down for the top 25 hottest Asian hairstyles that anyone can – and should – try for their next salon appointment. We've put together a list of the best Korean hairstyles for girls that are easy to replicate.
1. Ravishing Smoky Purple Ombre
If you're looking for a bold color, we highly recommend this dreamy coif. Only an artist could have transformed black into dark purple, icy blonde, and lavender pink. For maximum impact, pair with luscious long locks styled into giant, bouncy curls.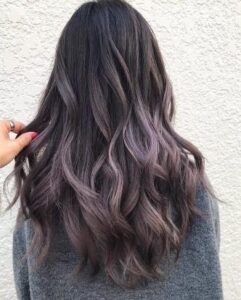 2. Pinned curl bangs
If you have curly hair, a fun Korean twist can give you hair that looks like this. The best thing about this kind of hairstyle is that it does not require you to change your haircut. Simply pin up your curly hair in an upward direction with bobby pins. This gives the hair beautiful volume and a tender look on the face.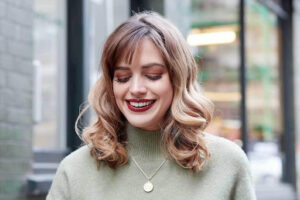 3. Sleek fine layers
This hairstyle is best suited to fine or straight hair. These are fashionable and have a sophisticated air about them. Delicate layers are cut into your hair, then brushed and casually combed backward in natural waves with no parting.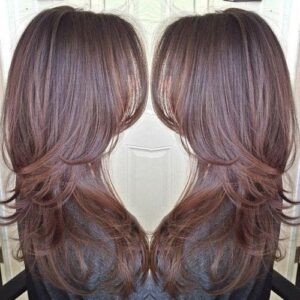 4. Modern Shaggy Asian Style
Shag hairstyles, which were popular in the 1970s, are not only still popular, but they're also majority approved and an excellent find for Asian hairstyles. As opposed to the original 70s style's short, wispy layers, medium-layered strands will keep it current, as will cute bangs and some new highlights.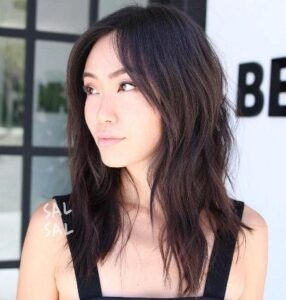 5. Side-swept pixie
Pixie haircuts are popular in Korea and are one of the most popular hairstyles. Every time you see one, however, there is a new twist. This side-swept pixie is no exception. This one features layers that are swept to one side to add volume to the brow.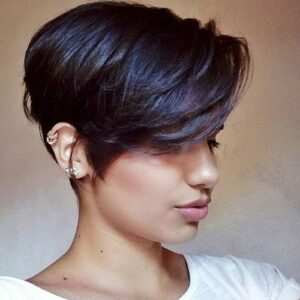 6. Headband ponytail
Headbands are extremely popular in almost every culture, including Koreans. Adding a headband to any haircut or hairstyle can give it a new twist and even perk it up. These headband hairstyles, along with a leaf-style side bang, are especially popular in Korea. Make a loose ponytail with the rest of your hair.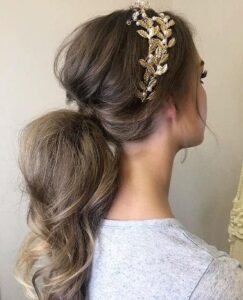 7. Asian Medium Hairstyle with Textured Waves
For a good reason, one of the most popular contemporary oriental hairstyles is this universally attractive shape. Layers through the bottom three-quarters of the hair give a delicate texture that is entirely effortless and natural when curled into loose waves and highlighted with a touch of baby lights.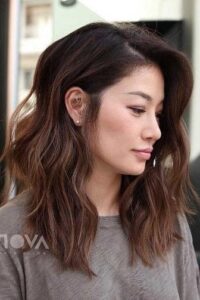 8. Wavy Long Bob with Bangs
Completing any cut with bangs is one of our favorite Asian hairstyles. Straight bangs not only look edgy, but they also help frame your eyes and make them pop. This long bob shows how warming up your natural dark and excellent color can warm up your complexion.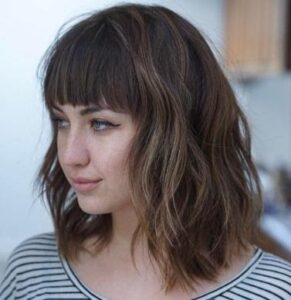 9. Sleek and black
The texture and color of your hair are something you share with Koreans. Singaporeans' hair is predominantly dark brown and black. And if you have sleek and straight hair, you can pull off the classic Korean poker-straight hair with Korean center parting, which exudes sophistication from the start.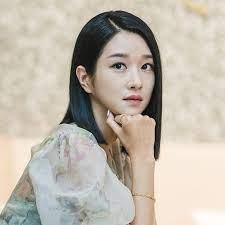 10. Tousled bun with layered bangs
You must have picked up on the Korean obsession with tousled hairstyles by now. We, on the other hand, are not complaining. The messy and unkempt look gives these hairstyles a lovely, slightly casual, and innocent appearance. This bun has been added to the list and will surely give you a more natural look. It has a beautifully layered bang in the front. Also, the rest of the hair is gathered in a messy bun at the nape. The bun can also be worn as a topknot.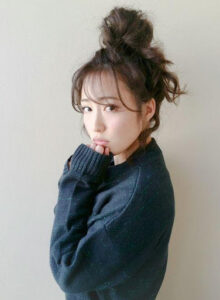 11. Bambi brown
Isn't this a darling hairstyle? The "Bambi brown" hair shade is very popular with Korean hairstyles, especially in the fall, because it complements fall fashion and seasonal colors so well. The style is a concise bob cut that is styled every morning to curl around your face gently.
The bangs are sparse and strategically placed. This is a popular hairstyle in Korea. Throughout our lookbook, you'll notice a lot of bangs like this. Trims are required on a regular basis to keep the lines of this haircut neat and slick.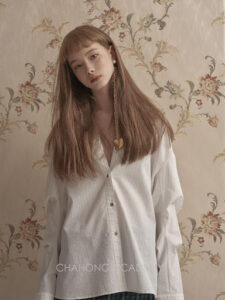 12. Simple long bob
We adore this look! The simple long bob is neatly cut but left unstyled. There's no need for a flick or curl at the end of this Korean hairstyle. If you're in the market for a new short haircut, this could be it.
The two-tone dye job is stunning. The purple-blue color could easily be changed to a different shade of your choice. This is without a doubt one of the simplest short Korean hairstyles you can achieve. Simply get up in the morning and toss it half up. Bam. You now have a neat and stylish hairstyle.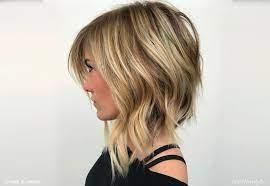 13. Loose curls 
Forget about the loose curls and soft glamour for a second. This cool Korean hairstyle looks great on a round face and avoids the cutesy, chubby girl look that everyone with a round face wants to avoid.
Bangs are back (of course), but not in a straight line across the forehead; instead, the hairdresser has used an A-line cut that adds length to the shape of the face. Style your hair in loose waves with a wet/messy look rather than big shiny curls to complete the look.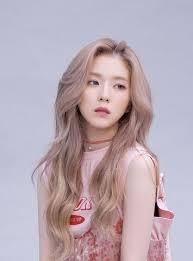 14. Beachy waves
This style is a piece of cake. If you have long hair or medium-length hair, this would be ideal for you. Hair is parted and styled into loose, beachy waves in this photo. It's elegant with an informal feel to it. However, it also works well with formal attire.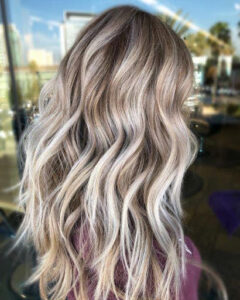 15. Hair puff
Puffs and buns are not the same things. While buns are typically styled at the nape of the neck, puffs are usually styled in the middle or upper-middle area, with a focus on the puff at the crown. The goal is to add volume and create the appearance of a thinner, more angular face. This is a popular Korean hairstyle that is both understated and stunning!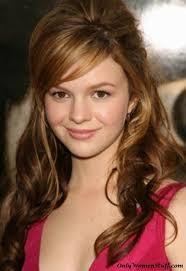 16. Round fringe bob
This is a very traditional Korean hairstyle. Only go for it if you are absolutely confident that you can pull it off. This is a chic, intelligent, and neat look with straight fringes at the front and the rest of the hair cut in such a way that it gives the face and hair a circular effect.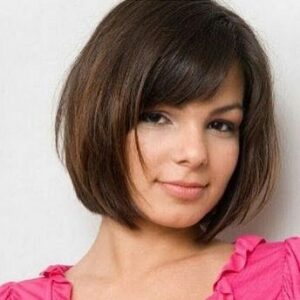 17. Edgy Textured Bob Hair
Bobs are classic: they're stylish, sassy, and low-maintenance. Add layers for texture and highlight with balayage to keep it modern. If you have naturally wavy hair, styling is even easier: simply run your finger through some product and go.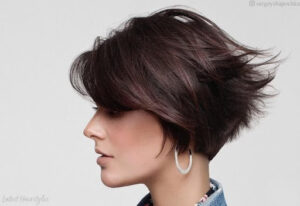 18. Vintage curls
Everyone enjoys borrowing a leaf from the past. Korean fashion, too, has a penchant for peering into the past. The desire for vintage curls stems from the same source. It is a refined style that lends a graceful air to the persona.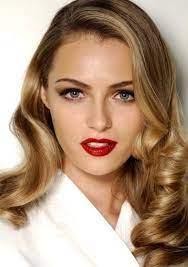 19. Blue Braided Festival Hair
Bright colors and braids are the epitome of a festival look. And, fortunately for everyone, despite being dubbed "festival hair," these whimsical styles aren't limited to fairgrounds. Make use of your imagination when it comes to braiding placement; there is no such thing as a wrong way to do it.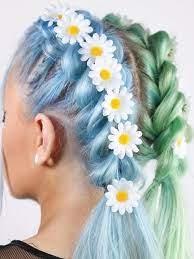 20. Braided Trendy Korean Shoulder Length Hair
You can thank the creative people for making it easy to popularize excellent top knots, but add more blades and lift if you feel old. An additional point to use with bold hair color and wear with a shoulder-length bob.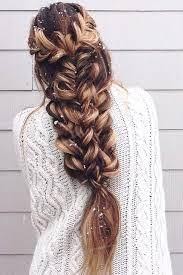 21. Sleek Curls and Side Parting
Let us go in a different direction! This is an excellent example of a Korean hairstyle female 2020 that takes inspiration from classic styles. Look at those gorgeous vintage curls and best for your medium Korean hairstyles! It's stunning with the side part and well-oiled locks that catch the light just right.
This hairstyle can be pinned up on one side or left loose and curly. Style it as shown in the photo for special occasions. On regular days, however, you can let your natural waves and curls show through in a messy side parting with little fuss.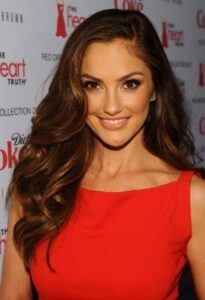 22. Two-Tone Hair Ends
The classic Korean bangs are here, with long and naturally wavy locks at the back and sides and ombre dyed ends in a lighter shade.
You can transform this fairly conservative and traditional Korean hairstyle women into something a little more unique and modern by dying the ends. We also like how the bangs have been tailored to your face. Also, gently draping along the sides and lengthening your face.
It's also an excellent Korean haircut for round faces and works with any hair color. Simply choose a dye color that will produce a lovely ombre effect when combined with your natural hair color.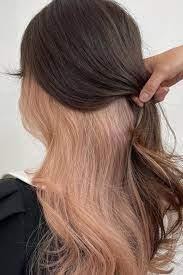 23. Korean Long Hair Style
If you have the luxury of having very long, natural, and beautiful hair (which we envy), this final Korean hairstyle may be for you. It has standard bangs with two-tone dye underneath. We love how you can easily conceal the roots that show through after a while by dying this section of your hair!
Tying back the top part of your hair for a half-up look can also look very elegant. This woman has created an Ariana Grande-inspired look with her high half ponytail and dark pink hair dye.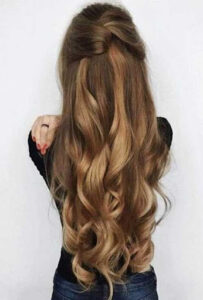 24. Korean Long Hair Style
This Korean model demonstrates that long hairstyles are just as popular as short hairstyles. We like how this hairstyle avoids the incredibly popular loose curls seen in many women's Korean hairstyles. Her hair is instead long and straight, with a very slight natural wave that complements the shape of her face. It's shaped into a natural point at the back, with shorter strands around the face. When tying this style in a ponytail, leave the shorter parts around the face down, or braid them.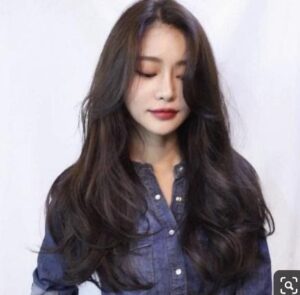 25. Shoulder Length with Bangs
This is a cute hairstyle that isn't as neat and straight as most bob and bang combinations. This Korean hairstyle female 2021 looks slightly below shoulder length and moves with your upper arms. It's not so long of a hair length that it gets in the way, but it's long enough to make a great ponytail if you need to throw it up.
The slight choppy and flattering lengths of the bangs and ends really made this style stand out. It's a little less well-kept, so it's ideal if you don't want to spend hours styling your hair every morning.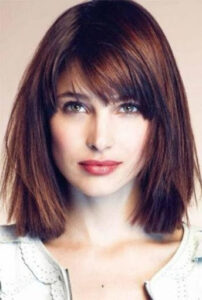 THE IMPORTANCE OF GETTING A HAIRSTYLE
Our hair is one of the vital parts of our bodies that reflect our personalities.The way we dress, our haircut, and our style all reveal something about who we are. But, unlike other parts of our bodies that we try to maintain and care for, our hair is the most neglected.
Most of us don't give our hair much thought until it starts to look bad. We believe that our hairstyle is fine as long as we have hair on our heads, but we don't realize that by not choosing the right hairstyle, we are passing up an opportunity to enhance our charisma and appearance.
Your hair frames your face nicely. The better your hairstyle, the more attractive your frame. Haircutting and styling serve a variety of functions. Hair health is one of the most important goals. Trimming hair on a regular basis keeps it healthy.
A well-chosen hairstyle can make you appear younger. Your hairstyle could help you look younger. There are hairstyles (such as bangs and bobs) that can help you reclaim your youth. A lousy haircut and hairstyle, on the other hand, can make you look older. As a result, it is critical to choose your hairstyle wisely.
Haircut and hairstyle fashions change from time to time. It is critical to follow fashion trends in order to look good. An out-of-date hairstyle can detract from your overall appearance. A fashionable hairstyle, on the other hand, can make you appear trendy.
Furthermore, not every haircut and hairstyle is flattering for everyone. Different hairstyles are appropriate for various face shapes. Rather than following celebrity hairstyle trends, you should go with a hairstyle recommended by your hairstylist. These experts know which haircut and hairstyle will suit you the best.
Here are some of the top reasons why a good hairstyle completes your overall look:
1. It improves your appearance.
We're not saying that your hairstyle makes you beautiful, but it certainly enhances your natural beauty.
2. It can make you appear to be a professional or a jerk.
If you're dressed to impress, but your hair doesn't match, it can ruin your entire look and make you appear like a homeless person who stole someone else's good clothes.
3. A bad hairstyle reflects poorly on the person wearing it.
With a lousy hairstyle, you come across as a slacker or someone who has very low self-esteem.
4. It will boost your self-esteem.
With a good hairstyle, you will feel more in control of yourself and, as a result, more confident.
5. It enhances your features.
Choosing the right hairstyle and color that compliments your skin color and features and matches the shape of your face can transform a person from oh to astound!
For hairstyle appointments in Singapore contact Kelture Aveda Hair Salon now!
Book an appointment with us.