What a blessing it is to have all of the best salon hair treatments available to us today! Hair can be damaged in different ways – it can be over-bleached, dehydrated, frizzy, too thin, or completely unmanageable – and the most important thing is to identify the specific issue. Today's salon hair treatment services include a variety of damaged hair procedures that each work differently and effectively. Some of them are designed to restore, rebuild, and repair your hair, while others are designed to level up the appearance of the hair and make it appear healthier.
Nowadays, more and more women are concerned with their hair. It is their top priority to visit the right salon. As a stylist, you must know everything there is to know about hair care and salon hair treatments in order to provide customers with the best solutions and satisfaction. Continue reading to discover which types of hair treatments are required to propel your hair's rejuvenating process.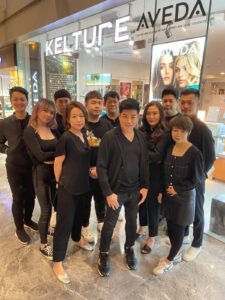 BEST HAIR TREATMENTS FOR YOUR HAIR
Aside from having maintenance for a consistent hair care routine and using only the best hair care products, getting luxury hair treatment at a salon is essential for restoring hair shine and improving overall hair health. With so many additional hair treatments available at salons, you decide which one is best for your hair type or need. Here are a few salon hair treatments to try.
It's a never-ending quest to have beautiful hair. We combed through the top salon hair treatments to find those that can instantly restore the body, shine, and health of your locks. Here is our selection of the best salon hair treatment services for repairing damaged hair.
1. Professional Protein Treatments
The best hair salon treatments for damaged hair are protein treatments. Many women use them to restore dry, brittle hair and promote growth. By filling in weak and damaged areas, protein helps prevent breakage and reinforce the structure of the hair strand. There are hair smoothing salon treatments available, and each one strengthens your locks by delivering hydrolyzed protein directly to the follicle. You will surely notice and feel the difference immediately following a protein treatment for hair in a salon. The effect will last between 4-6 weeks.
2. Scalp Treatment
If you have a flaky, dry, and itchy scalp, an in-salon scalp treatment can be a beneficial service that not only feels great but can significantly correct scalp oil production and improve hair growth.
A healthy scalp is such an important factor if you want healthy hair, whether your hair is weighed down by oiliness or is prone to flaky patches. A scalp facial is a popular Japanese trend that is gaining popularity due to the benefits of improved scalp skin. Scalp scrubs and serums are the newest hair skincare products.
3. In-Salon Scalp Treatments
When it comes to hair care and moisture treatments, many people overlook the importance of focusing on the scalp and undervalue salon scalp treatments! If you feel like your hair is never clean enough, only the hair and scalp treatment can keep it from becoming excessively oily too quickly. Scalp treatments are available in a variety of forms, including scrubs, oils, foams, sprays, and others.
4. Hot Oil Treatment
Hot oil treatments add instant shine and seal the cuticle, resulting in silky, nourished, and smooth hair. This professional salon hair treatment, which is typically left on the hair for 12-20 minutes before being rinsed out, can do wonders for dry and damaged hair in no time.
Hot oil treatments are best suited for dry and colored hair. The length of time you leave them on, how frequently you apply them, and how much you apply all depend on the condition of your hair.
A hot oil treatment salon may be beneficial to all hair types. It's surely one of the best salon treatments for damaged hair you can get because it restores the hair structure and gives your locks new life. Olive, castor, or coconut oil can be used to treat dry hair, so book a hair consultation and nourish your hair! Shampooing, and also applying oils to your hair and scalp as needed, heating, and washing the oils out are all part of the procedure.
5. Clarifying Treatment
A clarifying hair treatment at a salon, also known as a detox treatment, is a 'reset button' for your scalp and locks that remove dirt and product buildup. This highly effective salon treatment thickens your hair, makes it easier to style, and promotes growth. Consider this procedure if you notice that your hair has become too weak, stringy, and lifeless.
6. Moisture Treatment
With a moisture protein treatment, you can resurrect dry and parched trees. A quality moisture treatment, such as the creme de la creme deep conditioning treatment, can solve common hair problems such as lack of shine and split ends. Olaplex Hair Perfector No 3 is a well-known repairing treatment that is applied to the hair during a relaxing service and can be added to the cost of your weekly Blowout.
It's ideal for parched, over-processed, heat-damaged, and desperate hair in need of a little (or a lot) of TLC. Your hair will thank you if you include a moisture treatment in your next coloring service.
7. Detox Treatment
Detox hair treatments remove buildup on the hair shaft caused by excessive product use or chemicals such as chlorine. Detox treatment can improve the health of the hair and scalp by clarifying the hair shaft and can stimulate hair growth.
The buildup is a dirty word that we all use. Detox treatments will cleanse and add body to your hair while removing impurities that cause it to look dull. Detox treatment is for you if you use many styling products or skip shampoo several times a week.
8. In-Salon Botox Treatment
If you're looking for a silky hair treatment, look no further than hair botox treatment. Don't worry, and this hair treatment does not involve the use of any needles! If your hair is severely dehydrated or you have naturally curly hair (lucky you!), we strongly advise you to try a botox salon treatment. This procedure is regarded as a highly effective hair treatment for dry ends and frizzy hair. To put it simply, salon hair botox is a keratin-based deep-conditioning treatment that preserves your natural hair texture.
9. Relax treatment
This anti-frizz hair treatment, also known as a hair relaxer, is genuinely the best anti-frizz hair treatment, especially for women with unruly, coarse, curly, or wavy hair. A relaxing salon treatment for hair entails the use of chemicals to reduce curls and make your hair more manageable. In this case, excellent post-relaxation treatment is essential.
If your curls have taken over, a relaxing treatment can help you regain control. Relaxing treatments combat frizz and keep hair sleek for months on end. The results can be tailored to reduce curl, eliminate frizz, and control movement. There are many Keratin Smoothing treatments that are well-known for their formaldehyde-free semi-permanent straightening treatment.
Relaxing treatments are used on wavy or curly hair that is textured. You can achieve the beach waves of your dreams while avoiding the dry, frizzy side effect of your curl. Although this treatment can last for months, it must be reapplied with caution. If you use a relaxing treatment too frequently, your hair will become dry, limp, and lifeless. Choose your battles carefully and tread lightly.
10. Deep Conditioning Hair Treatment
Another popular treatment for frizzy, lifeless, and dry hair, this procedure can address a wide range of hair issues. After all, one of the most effective salon hair treatments available today is deep hair conditioning. It could be the best hair treatment for people who have noticed their hair isn't as soft, shiny, or hydrated as it once was. For maximum effect, such a hair hydration treatment should be scheduled at least once every few months, and it is suitable for all types of hair.
11. Toning Treatment
Toning treatment options are used to remedy hair color. Suppose your blonde becomes a little excessively golden just after foils have been removed. In that case, a toning treatment can be adapted after the initial color service to perfect your hair color or in-between full-color services like maintenance. A toning treatment is typically applied at the shampoo bowl and left on the hair for 15-20 minutes before thoroughly rinsing.
Toning treatments can help extend the life of your hair color, prevent fading, and correct a variety of coloring mistakes. Professional application is essential because lightened hair will absorb the color immediately. Rather than experimenting with boxed color at home, get an in-salon toning treatment to avoid a hair color mishap.
12. Professional In-Salon Hair Rebonding Singapore Treatment
Although the overall appearance is similar to that of a relaxing treatment, rebonding employs much more vital components. Typically, a perming mix and a flat iron are used. Your hair, on the other hand, appears much straighter than it did after simply relaxing it. There are many kinds of hair rebonding.
Curly hair does require a significant amount of time and effort to maintain, which is why many people choose to rebond or straighten their hair. Unlike 3-5 years ago, when rebonding was considered "straight and boring," we have seen a revival in natural rebonding among both Korean artists and salons in Singapore!
There are many different types of rebonding available right now, including Volume Rebonding Singapore, S Curve Rebonding, S curl rebonding, C Curve Rebonding, C Curl Rebonding, and C Curl perm, for korean curly hair and Korean curls. Rebonding Perms, and Volume Perm, Soft rebonding Singapore, Korean S curl perm, volume rebonding for thin hair, wave rebonding, hair rebonding men. It is best to educate yourself on each type of rebonding. You can contact Kelture Aveda Hair Salon for the hair rebonding hair style and hair rebonding price.
What is soft rebonding vs. Rebonding?
Straight rebonding is a gentler version of soft rebonding. To reduce natural frizziness, milder hair chemicals and a lower temperature are used instead of strong chemicals and high heat. The result is naturally straight hair that is not overly curly or coarse!
13. K-Gloss Treatment Singapore
Want instant radiance that lasts for weeks? A glossing treatment smoothes the shaft and adds a reflective sheen to the hair. This famous hair enhancing service, performed at the shampoo bowl, can be done after a color treatment or on virgin hair to boost radiance.
Glossing treatments are a fun little hair enhancement service that you can do on the spur of the moment. Consider a glossing treatment for your hair as a topcoat, and use one after every hair coloring service.
14. Keratin treatment
For over ten years, Keratin Complex has been a popular hair smoothing service, and it can provide smooth results for several weeks. Relaxers and keratin treatments, also known as the famous Brazilian Blowout, can transform curly hair into straight hair. The problem is that they only last until your hair grows out, at which point you must return to the salon for another application.
Frizzy hair is a battle that most women succumb to. Keratin treatment is the salon treatment to have if you want to win the fight against curly hair. For more than years, it has been a well-known smoothing treatment. It is known to produce soft results that last for several weeks. The Brazilian Blowout is a type of keratin treatment that can transform curly hair into silky, straight hair. However, the effect only lasts until the hair grows out, after which it will need to be reapplied in the salon.
This treatment is perfect for those women who have curly or frizzy hair that refuses to stay put. Keratin treatment produces soft results without the use of flat irons or other styling products. Keratin can be massaged to the hair in two ways. For six months, the essential keratin smoothing treatment provides shine and silky hair. The Brazilian Blowout offers a solution that pelts the hair shaft and keeps curls for nearly three months. A complete hair care routine can be found here.
Keratin treatments are perfect if you have curly or frizzy hair that won't go away and want smooth results without having to use flattening irons and styling products at home.
A keratin treatment can be applied to the hair in two ways, and it's critical to understand the distinction between the two. An essential keratin smoothing treatment, such as Goldwell's Kerasilk, penetrates your hair's cortex, promising shine and silky tresses for up to six months.
The famous Brazilian Blowout contains a formaldehyde-derived solution that coats the hair shaft and, when rinsed and followed by a blow-dry and straightening iron, can keep curls at bay for up to three months. You'll wake up with straight hair that cares about you. For more questions about Keratin treatment, Kelture Aveda Hair Salon has the best Keratin Hair treatment Singapore.
Possible side effects of keratin treatment
Keratin is a type of protein found naturally in your skin, hair, and nails. This protein forms fiber, which gives it strength.
Keratin derived from these animal parts is commonly used in beauty treatments. While it is a natural ingredient, these products contain a number of other additives. Formaldehyde is a chemical that is frequently found in keratin treatments.
Carcinogen or Formaldehyde, means that it may cause cancer or aid in the growth of cancer. Formaldehyde gas is exposed into the air by products containing this chemical. Formaldehyde may also cause other health problems.
Keratin treatments have not been widely reported to cause side effects. It is unknown how frequently negative effects occur. Furthermore, the long-term effects of this hair treatment have not been investigated.
The long-term health effects of keratin products on hairdressers and those who receive this treatment are unknown. It is essential to understand the potential side effects and risks of keratin treatment. This may assist you in determining whether or not this beauty product is appropriate for you.
Benefits
Keratin treatments for hair have some advantages, according to those who use them. The outcome is determined by the type and texture of your hair. They also differ depending on how healthy and thick your hair is, to begin with. Different types of keratin treatments may produce different results.
BENEFITS OF HAIR TREATMENTS
To have healthy and beautiful hair, you must properly care for it so that you do not regret it later. Many of you may have damaged hair despite doing daily care at home and weekly maintenance at a salon. You may make mistakes if you do not manage the treatment schedule and ingredients that you use to treat your hair at home or in the salon correctly. The way you treat your hair may also be a cause of the hair damage you are currently experiencing.
You've scheduled a day at the spa and decided on a hair and scalp treatment; what are the benefits to look forward to? While some of the benefits of treating your hair and scalp are long-term, you will notice some immediate benefits, such as significantly reduced dandruff and your hair feeling new after deep conditioning. You'll also see how much stress was stored in your scalp before it was massaged away. Even the rest of the week, you'll notice and feel how happy your hair and scalp are due to the spa treatment. Hopefully, it will enlighten you to make the detox treatment part of your weekly routine, and if that is the case, you will reap even more benefits.
1. Relaxation.
I believe we can all agree that nothing beats a good scalp massage. The effects are instantaneous and highly relaxing! I'm not sure about you, but it's my favorite part of going to the salon. A scalp massage can even prevent and treat headaches, which is reason enough for people who suffer from chronic headaches to seek this service. During a scalp treatment, you'll get a good, long scalp massage while the leave-in conditioner is applied. Try not to fall into a deep sleep because you'll want to enjoy every second of this beautiful massage!
2. Removes clogs from hair follicles.
Hair follicles on the scalp, like the rest of your body, can become clogged with a variety of substances. The most common is sebum, a natural oil secreted by the sebaceous gland in the hair follicle. This oil combines with the dirt and chemical residue from hair products to entirely clog the pores. Scalp treatments are an excellent way to remove them and reset the sebum levels. The scalp treatment products, combined with the gentle exfoliation and scalp massage, will help unclog any buildup in those hair follicles, allowing the follicle to release its natural conditioning oils. A healthy strand means a healthy growth of hair!
3. Increases blood flow.
The exfoliation and massage components of a scalp treatment stimulate blood flow to your scalp, making it easier for blood to reach your follicles and deliver essential nutrients. The hair that grows from those nutrient-rich follicles will be soft and healthy! Again, a healthy strand means a healthy head of hair.
4. Removes Dandruff.
Nobody wants an embarrassing dandruff problem. Dandruff can be caused by either too much or too little oil production. When your scalp produces too much oil, it irritates it and causes flakiness. If it doesn't produce enough, the dryness will cause irritation and flakiness. Exfoliation will be used in a scalp treatment to remove dead skin, leaving a layer of fresh, healthy skin behind. A leave-in conditioner will also be applied, lubricating and moisturizing the scalp to promote healthy hair growth.
5. Prevents hair thinning and loss.
Clogged follicles can cause hair loss. When you unclog those follicles and reset the sebum production levels, your hair has a much better chance of growing back! Some scalps necessitate the use of unique products to remove excessive buildup, and others may require medication. However, if detected early enough, a simple scalp treatment performed on a regular basis can promote the growth of thicker, healthier hair.
If you want to have healthier hair in a Korean salon Singapore, don't hesitate to book an appointment to a trusted best korean hair salon Singapore like Kelture Aveda! You can stop searching about "korean hair salon near me" because Kelture will be the right place for you.
Book an appointment with us.