Unlike women, most men think about coloring their hair only when they notice that gray strands are beginning to outnumber the true color of their tresses and when hair loss appears uncontrollable. Men may have reservations about going to a salon to get their hair dyed and prefer to do it themselves, coloring their hair with the color of their choice in the comfort of their own home.
Unlike a suit, a watch, or a pair of sneakers, hair is the one style statement that cannot be removed. As a result, it's essential to make sure yours – whether brown, or white-out blond – is sending all the right signals.
To help you get the best hair dye job possible, we asked the color experts for tips on everything from hiding greys to a total makeover. Make yourself well-informed.
BEST COLOR FOR MEN'S HAIR
Finding the perfect hairstyle may appear to be difficult for some men, and most will experiment to achieve the desired look.
What most people don't realize is that perfect hair comes from very simple styles. To look good, you don't need to have a great haircut or wear a complicated hairstyle.
In fact, simple hair coloring may be all you need to achieve the perfect look you've always desired. The best part is that there is an infinite number of color combinations to choose from.
Regardless of the existence of these ideas, most men will have difficulty selecting the right one; however, if you have some ideas in mind, this will be easier.
When done correctly, men with colored hair look attractive and fashionable. There's no reason why men can't have as much fun with their hair as women, so it's time to check out the latest hair colors for men and find a new look.
Go for it if you like pale pink, blazing purple, or midnight blue. Stepping out with unconventional hair requires confidence and an eye for style. That's manly, hot, and undeniably cool. Which color on the spectrum do you prefer?
Take a look at these incredible hair color ideas below for inspiration on some colors you should try.
1. Copper Brown
Men with a warm complexion will discover the copper brown dye ideal due to the apparent olive and yellow undertones that match their skin tone. Men with straight and curly hair can also look fantastic in this color, but they will need to cut their hair to shorter lengths to make it appear messy.
Copper brown looks great on people with warm skin tones. This is due to the presence of yellow or olive undertones in this skin tone.
A copper brown is ideal for men with curly hair because it is known to bring out the texture of each curl, making any curly hairstyle look more thorough and appealing.
Anyone with naturally straight or flat ironed hair can still wear this color and look fabulous; however, they must cut their hair shorter and make it a little messy.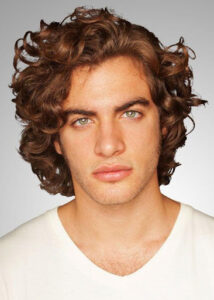 2. Pink Purple Hairs
Thanks to the Korean Boy group, purple is becoming more widely accepted as a perfectly acceptable men's hair color.  Do you know why? Because hues are colors, and they are genderless. Guys, your masculinity isn't defined by your hair color. Own it if you look good in purple.
Pink purple hair color will give you an incredible gothic look if you know how to style your hair.
The only negative side to this hair color is that many stylists do not know how to combine the colors well, so it usually looks plain purple or pink. You will look fantastic if you choose the right color.
This style is best suited to men with round or oval faces and medium thick hair.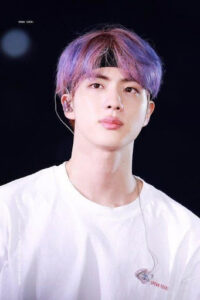 3. White Lightning
If you want to take pride in having a color that can effectively conceal gray hair that is beginning to appear as a result of aging, white lightning is an obvious choice. Men with neutral, or medium hair will appreciate this dye.
As you get older then your hair begins to gray, don't hide it because it can be a lovely color on your head.
In fact, some people go to great lengths to obtain this color, so you should wear it proudly. It suits men with medium, neutral, or thick complexions and thick hair.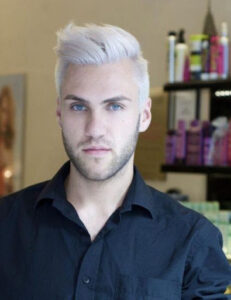 4. Orange Hair Color
If you want to achieve a specific hairstyle that will catch the attention of others, orange is one of the best hues out there to use. With this orange hair color, you can brighten up any situation. Orange is a bright color, so you must be sure of the look you want to achieve; otherwise, you will dislike the attention that this color draws to you. It brightens the hairstyle and can conceal any facial or hair features you don't want to show.
Because of its brightness, it can be used to conceal or draw attention away from a haircut, hairstyle, or any facial features that you do not want to be seen. It's a good idea to go all orange from top to bottom and sides. Color your hair orange just on the sides, back, and top.
This deep orange is eye-catching but is almost natural. Most ginger hues wouldn't be this extreme, but if you do want to ease into the world of unusual hair colors—and if you look good in orange—this is a lovely shade to start with.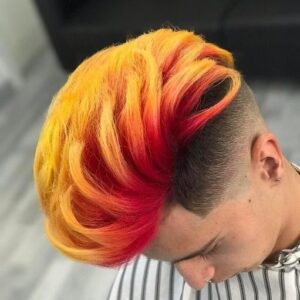 5. Neutral Dark Blonde
A neutral or dark blonde color is perfect for hair that is short on the sides and longer on top.
Blonde layers look best on light-skinned men and those with a cool skin tone so that the neutral blonde will look great on men with similar complexions.
If you have dark brown eyes, this will be a plus for the look because they will actually stand out against a dark blonde mane.
The best hair texture for this color is medium because fine or overly thick hair will look unappealing.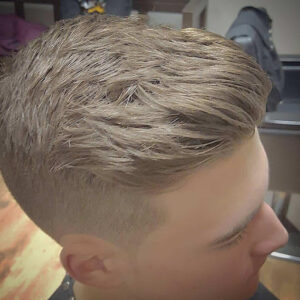 6. The Green Hair
Hairstyles such as the Mohawk and the Pompadour could look fantastic with the green color on the long top hair. With the back and sides faded, the light green hue may be better suited for men with dark or medium skin tones.
Green hair is an excellent choice for people who like to keep the top section of their head longer or who like to wear hairstyles like Mohawk and the pompadour.
You can use other green tones, but light green appears to work best, especially if you have a pompadour.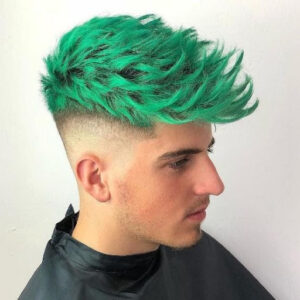 7. Neutral Medium Brown
For those with spikes, a neutral medium brown hair color can be ideal. When the hair is cut short, this one looks sexy. To achieve perfection, carefully follow the steps.
Although neutral medium brown is a versatile color that can complement many skin tones, it is best suited to people with a neutral complexion or fair to medium cool.
In this case, a fair and balanced complexion means that you do have no underlying red or olive tones on your skin.
This color complements any strand texture, but it is important to note that fine hair texture will appear even finer in this color. As a result, a short spiky cut will look especially good in this color.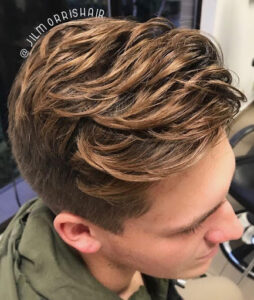 8. Ash Brown Hair Men
Men with a medium warm complexion should consider dying their hair this unique color. This is especially true if they have layered, side-swept hair.
However, because of the nature and appearance of ash brown, it will be better suited to thicker hair. This is due to the fact that when you use this color on your tresses, this will make thinning or fine hair appear more delicate.
And a mane that is too long will make the hair appear thinner. This color cannot be used to conceal your thinning hair, so it is not a good idea to wear it if you have this type of hair.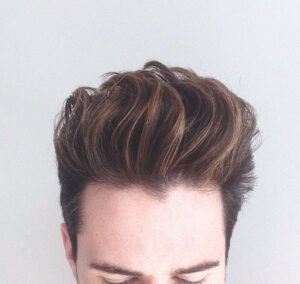 9. Dark Brown
Dark brown will add warmth or a hint of caramel to your hair, as evidenced by the overall appearance of the tips of the strands when wearing this color.
The effect of this color, most especially at the tips of the hair, brings out an unrivaled beauty, so if you want to try this color, give your hair a good length to expose the ends better.
The warm dark brown hair color looks great on men with yellow, olive, or tan skin tones. Because it looks better on fuller hair, this color looks best on medium to thick hair.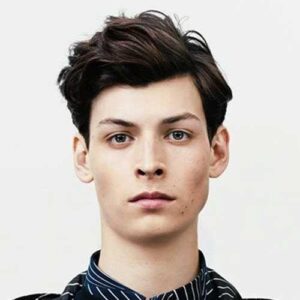 10. Deep Red
This color is not for everyone. The deep red is for those with light to medium skin tones. Medium to thick hair textures is ideal for making this color stand out. You can also do some experimentation with the deep red with different textures until you find one that works for you.
In a deep red undertone, short, close-cropped hair with a long top section will look best. The deep red hair color is best suited to men with medium to fair complexions.
Men with warm and a slightly darker skin tones, on the other hand, can wear this color, but the red tone they choose must be deeper to make their hair stand out.
Thick and medium-textured hair is excellent for this hue because it forms a perfect foundation for the cut that goes with deep red, but don't let your hair texture stop you from wearing this color.
You can experiment with different hairstyles until you find one that looks good with deep red.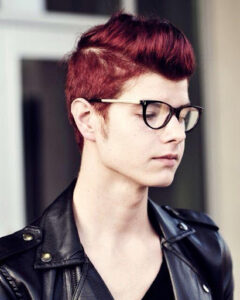 11. Golden Blonde
Men with moderate to fair complexions and light eyes can look great with golden blonde hair. The best hair types for his color are thick and wavy hair. You can also use the golden blonde color for other hairstyles, such as the angled fauxhawk.
Gold is not only valuable as a jewelry metal; it can also be used to enhance the appearance of your hairstyle.
The golden blonde looks great on men with fair or medium complexions, especially on men with light eyes.
Wavy thick hair complements the golden blonde color and can be worn in hairstyles like the angled fauxhawk. Nevertheless, it would help if you used some styling gel to keep your fauxhawk in place to show off your new color.
The back and sides should be faded and left uncolored. Men with medium to dark skin tones will look best in this color.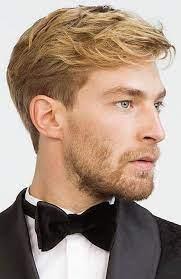 12. The Rainbow
The combination of a modern hairstyle and rainbow-colored hair can be the most fashionable. Although not all of the seven colors in the rainbow can be seen, the combination of three to four colors when occupying several sections of the hair can produce an out-of-this-world color. If you want to bring out perfection to this hairstyling, you will need the skills of a hairdresser; otherwise, you may end up nowhere.
If you want to draw attention to yourself or stand out from the crowd, you should try the rainbow color combination.
As the name implies, this hair color is a combination of several colors, but you do not have to use all seven rainbow colors.
You can have three or even more colors on your hair, each multiple occupying sections of the head or the hues can be used to form a pattern on the head.
However, it is crucial not to overdo it because you may end up looking like a clown.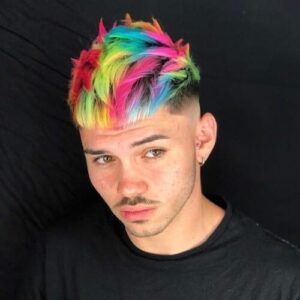 13. Black Magic
As demonstrated here, black has the ability to perform magic. Fades and close-cut hairstyles look fantastic with the darkest black hair color. Men with warm undertones and dark to medium complexions will look good in this color. Wavy and thick hair, black hair, tanned skin, and light eyes are the best combinations for the color black to shine.
When it comes to hair color ideas, most men don't pay much attention to black. Black is, in fact, one of the most popular hair colors, and for a good reason: it complements any face and hair type.
Even if you are unsure of the best color to use on your mane, you can always go black.
On the other hand, black hair color is best for men with dark or medium complexions who wear close-cut fades.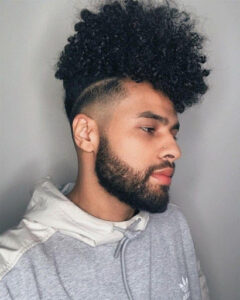 14. Two Color Curly Hair
Bi-color hair on natural curls can look fantastic. Long or medium-length hair is ideal for experimenting with bi-color, such as a combination of gray and brown when colored on different layers of the hair. You can also experiment with two contrasting colors, especially if you're working on dreadlock hairstyles.
If you have curly, medium or long hair, you can experiment with two colors. Choose two complementary colors, such as two shades of brown or gray.
Then, color your hair in layers, with each color occupying its own layer. You can also use contrasting colors to create a more detailed look.
The two-color idea works best for men with thick curly hair, but dreadlocks can also pull it off.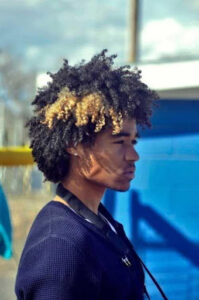 15. Short Grey Colored Hair
Gray hair color at the top section of closely shaved hair can be used to add detail. Although the hair should be closely shaved, the top hairs should be slightly longer than the sides because this is where the hair color will be applied.
Due to their skin tone and hair texture, Caucasians will look good with grey hair color at the top hairs.Greying hair is a natural part of the aging process. If you're not ready to embrace the grey, make it go away. While a salon treatment is the safest bet, using dye to conceal greys is a relatively simple process that can be done in the comfort of your home by following a few simple steps.
If you have short hair and your top priority is to cover up grey patches, look for a colorant that is two shades lighter than the depth of your natural color and has an ash tone, e.g., light ash brown. This will offset any warmth (the richness of the color) that may develop during the color's processing.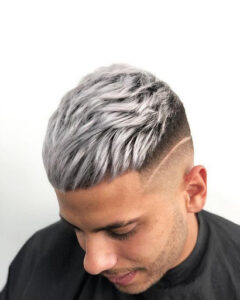 16. Ash grey hair men
With this hair color for men, you can achieve an edgy look. If you want to add some contrast to your dark hair, go for light ash gray. Combining it with messy or textured hairstyles will give you a hip and youthful look.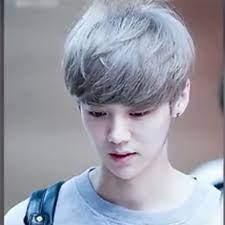 17. Ash blue hair guy
Ash blue hair colors are fantastic because they can be both avant-garde and down-to-earth. It's a great hair color because it's so muted that it's utterly wearable despite not being a pure hair color!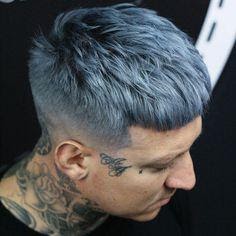 SHOULD I DYE MY HAIR?
SKIN TONE
Finding the perfect shade for your skin tone is critical because having the right hair color can make a big difference in how you look. As a general rule, you want hair color that contrasts with the undertones of your skin. Check the underside of your arm to see which camp you belong to. Cool skin tones have purple or blue veins and prefer warmer colors, whereas warm skin tones have more greenish veins and prefer cooler colors.
HAIR TYPE & COLOUR
Unfortunately, for some, changing up your hair color isn't a level playing field. In general, the more difficult it is to bleach your hair, the darker, thicker, or curlier it is. That's not to say a new look is out of the question. However, it may take several treatments to achieve the desired result, which can harm your hair. If you don't have fine, light natural hair, consider leaving this one to the professionals.
AGE
Most men reach for the dye dispenser because of the tell-tale signs of aging. Even if you want to change earlier in life, the number of candles on your cake is essential. It's not for us to limit what guys can wear; some looks are better left to the youth. After your late thirties, avoid neon pink in favor of something a little more classic.
PERSONAL STYLE
You can take all the 'what color should I dye my hair' quizzes you want, but no matter what you search online, it won't be the correct answer if it doesn't match your personal style. Before you even pick up a color swatch, think about your job (and the dress code it requires) as well as everything else in your closet.
MAINTENANCE
The biggest impediment to effectiveness, as with all aspects of your grooming routine, is a complication. You will not do it if it adds too much time to your morning routine. When it comes to maintaining dyed hair, this can spell disaster for your barnet. Because the chemicals in bleach strip away essential natural oils, your hair can become extremely dry and brittle if you don't take care of it, step away from the bottle if you aren't willing to maintain it.
For more hair color tipe feel free to ask questions to a team of experts at Kelture Aveda Hair Salon Singapore!