Whether you're in the mood to try out the latest hair color trend or dyeing your hair is already a permanent fixture in your hair journey, it's important to know about the different types of hair color—including permanent hair color , semi-permanent hair color , etc. and how they each interact with your locks. Not all hair color is created equal, and each type serves a different purpose.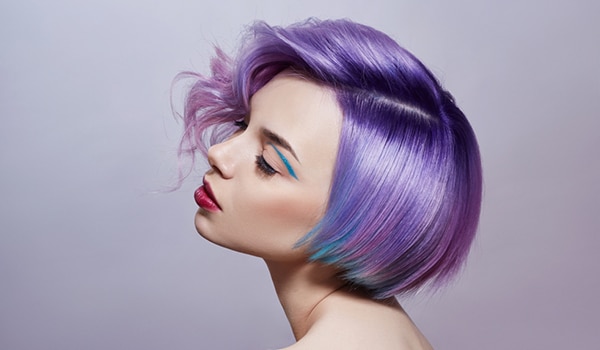 Temporary
Strands in shades of gray and pastels have been lighting up our social media
 feeds recently. While these on-trend hair colours certainly make for pretty pictures, not everyone is ready to keep such a bold look for the long term. This is where temporary hair colours
 comes into play. Temporary hair dye, otherwise known as wash out hair color, coats only the outside of the hair shaft, so the results don't last. This means that when you go to shampoo
 your hair next, the new color will wash out and your hair will return to its natural shade, allowing you to experience a new hair color without a major commitment. However, you should know that damaged hair
 that's dyed with temporary hair color can appear stained after continued use over time. 
Semi permanent
Semi-permanent hair color is ammonia-free, so its molecules get under the outer cuticle of the hair shaft but, unlike permanent dye, doesn't penetrate the strand. Instead, they wrap around the hair's cuticle, creating a coating of color that's gradually washed away. Think of semi-permanent hair color as a lip stain. You know it will gradually wear off and you're free to try another shade. So how long does demi-permanent hair color last? Approximately 24 shampoos.
Permanent
Permanent hair color is exactly that—permanent. When you apply it to your hair, it adds to the natural hair pigment so that the color you've chosen can replace it. It does this by opening the cuticle to let dye into the hair in order to deposit the permanent color. So how long does permanent hair color last? Technically, it never truly leaves but the color does fade over time and can certainly be dyed over with a new shade whenever you're in the mood for a change.
Demi Permanent
Demi permanent and semi permanent seem very similiar but there are quite a few differences. The biggest difference is semi has no developer while demi will have a peroxide based developer. Because of this, semi's only coat the hair shaft. The peroxide slightly opens the cuticle of the hair shaft allowing the demi color to penetrate. So in general, semi's last about 12 washes and demi's last more like 12–24.
With no developer, semi's are more for slightly changing the tones of your color. More of like a blur effect. Demi's can alter your color slightly. They don't have the manpower to drastically lighten your color, but they can totally darken it.
Bleaching
If you have naturally dark brown or brunette hair, there is a good chance you'll need a hair color bleach to lighten your hair before dying it to a lighter shade or going blonde altogether. While bleach is a great way to lighten and brighten your hair, be aware that using it can lead to damage.
Highlights
Not every look requires all-over color, which is where hair highlights come into play. These are achieved by placing the color on different segments of the hair to help promote depth, tone, and shade. The chunky-looking highlights of the past are no longer the biggest trend, now a more dimensional, subtle look has become the go-to way to help refresh tired locks. Instead of being limited to one type of highlights, there are quite a few you can choose from. These include: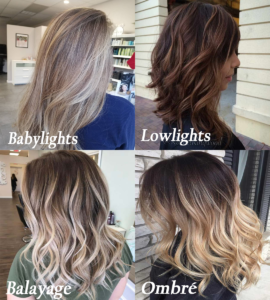 1) Ombré
Ombré hair color leaves your natural color at the roots and gradually fades into a lighter highlighted tone at the bottom of the hair.
2) Balayage
This highlighting technique involves painting on highlights where your hair naturally hits the light, helping to give your hair a more youthful, natural-looking glow. Since balayage involves strategic placement, this highlighting technique is best left to the pros.
3) Lowlights
Instead of picking strands to lighten, this technique involves introducing darker tones to the hair for added dimension that's perfect for a seasonal hair update. If highlights are lighter sections of hair dyed into your hair, lowlights go in completely the opposite direction. They involve picking up a few thin or thick sections of hair and coloring them in a shade or two darker than your base color. 
4) Babylights
Babylights are very delicate, white-blonde highlights created using a very fine colour technique to mimic that blonde hue achieved if your hair is naturally lightened in the sun.
One of the main attractions of the Babylights techniques is that it can be applied to any hair colour and any length (long/short). They are also a great way to introduce colour if you fancy a change of hair style but don't want anything too drastic. Babylights are very natural, subtle and most importantly low maintenance.
Root color
For some people, gray hair can be the bane of their existence. In this case, you may not need or want a full color dye job, so a root touch up may be the best way to help maintain your natural color. The great news is that root concealer products can range from temporary to permanent, and there are plenty of new options to cover gray hair quickly and easily. One of our favorites is temporary root cover up spray, which is a great way to help conceal the appearance of gray roots. If you need a quick solution, these sprays distribute a fine-mist of color that washes out with your next shampoo. Temporary root concealers are not a great permanent solution—hence the name—but they are amazing for last-minute events and touch-ups.