The past few months have been unpredictable, stressful, and chaotic. But, regardless of what occurred, it is now time to move on. Look ahead to 2023 with an open mind. There's no better way to start the year than with fresh hair color.
Don't worry if you've come out of a K-drama with a sudden need for a new hair color. You're not alone. We're constantly inspired by our favorite Korean celebs' expertly-styled locks, whether it's a DIY-able Korean brown hair or a potentially lifestyle-altering blonde, aside from their glowing skin and fantastic fashion sense. Over the years, we've compiled quite a wish list, and we've found that some Hallyu stars like specific colors over others.
When it comes to haircuts, there is no question that Koreans are the best. This is where trends start, from daring dye jobs that go beyond the customary dark hues to perms that have made it onto the heads of on-screen celebrities. This is the sign you've been waiting for to change your hairstyle. From modest wispy bangs and the Hime cut to a blue-grey tint that'll sweep your feed, we've picked up the most fabulous hairstyles making waves in South Korea.
We've spotted the hottest hair trends from Korea and given you the inside scoop on how to rock them. We have here a list of the most popular hair color trends that Kpop idols are sporting right now for those of you who want to try a new look for the coming 2023.
So, how about a trip to the salon this summer to freshen up your look for the 2023 hair color trends Korean?
23 POPULAR KOREAN HAIR COLOR 2023 TRENDS
1. Illuminating Yellow
Illuminating yellow is one of the Colors of the Year. Consider this a warm yellow tone that is close to blonde but a little brighter. The color illuminating is a popular choice since it is joyful, welcoming, and energizing.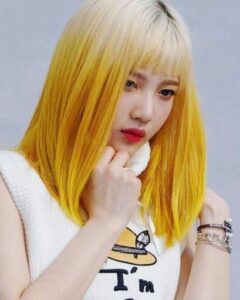 2. Mahogany
Mahogany, an intense reddish-brown hue, is a flexible color that looks great on everyone because it has a mix of warm and cool undertones. As a result, it is suitable for all skin tones! Give mahogany a try if you're looking for a hair color that will complement your natural skin tone.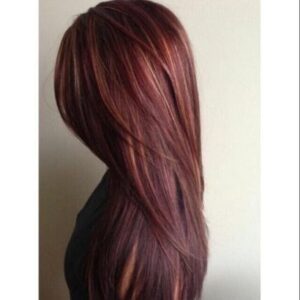 3. Dark Brown
Dark brown is unquestionably the go-to color for Korean celebrities who want to avoid trying out new colors. A warm version of this color would look fantastic on cool skin tones, whereas a dark, cool-toned brown would suit those with a more golden complexion.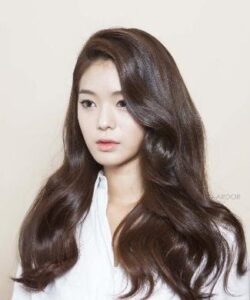 4. Black/Midnight Blue
Though matte brown hair is more prevalent among K-celebrities, black hair is still a popular choice to create a more substantial look and achieve an appealing comparison against fair or warm-toned skin. Some celebrities even go for a black with a bluish tinge, though this would necessitate pre-lightening to bring out the cool tones.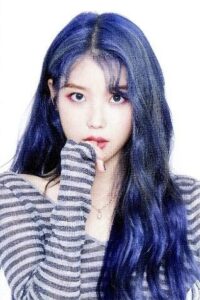 5. Milk Tea Browns & Maple Color
Brown hair has been done long ago, but when Blackpink's Jisoo wears it, it's back in style. With that being said, this trend came back to life. If the K-pop industry has anything to do with it, this milk tea version with equal parts ashy and almost dark blonde will make a comeback.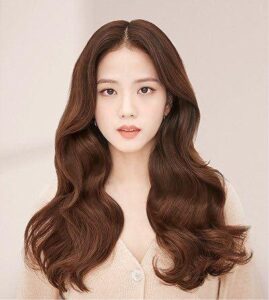 6. Copper
Having some reddish hues in your tresses can instantly liven up a dull complexion and make you look younger even when you're not wearing makeup. If you don't want to go all out with an Ariel red or ash red hair, a dye job in the light reddish-brown spectrum, such as copper, is your best bet, and stars also favor it.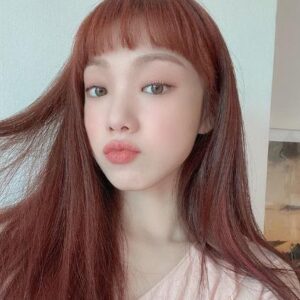 7. Ultimate Gray
Along with Illuminating, Ultimate Gray was also chosen as the Color of the Year. If you dye your hair this color, it will turn into an ashy gray tone. Depending on the lighting and styling, Ultimate Gray can produce a variety of aesthetics. We highly recommend this color to anyone looking to try something new!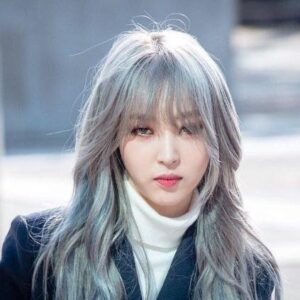 8. Classic Blue
The Color of the Year for 2020 is Classic Blue. It's a dark blue color that looks like the sky just before sunset. Classic Blue has a distinct charm that results in a relaxed yet stylish appearance. It is expected to remain a popular color through 2023!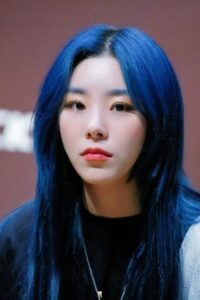 9. Sand Beige
Not a big fan of reds? Try a sand beige hair color, which is the more yellow-toned cousin of ash brown. Most celebrity hairstylists recommend this color for women with tans and deep skin tones, but anyone can wear it. After all, it's up to your colorist to make your dream color work with your features!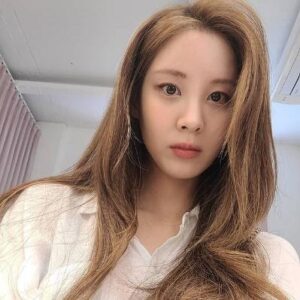 10. Pale Honey Blonde
K-pop stars are recognized for their vivid, ever-changing hair colors, but nothing beats a pale blonde for a bold yet classic look. Warm, honey-like blonde shades are generally preferred in Asia for a softer look. This color also complements our skin's warm colors better than, say, a platinum blonde, and it can be easier to maintain.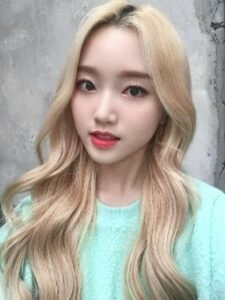 11. Mushroom Brown
When colored, Asian hair is notorious for turning brassy. Fortunately, we can avoid this by choosing a color like mushroom brown hair, which is a light brown that is neither too warm nor too cool in tone. You can always add an asian hair highlights. It's the ideal neutral shade, flattering many different skin tones and requiring less maintenance than its brighter counterparts.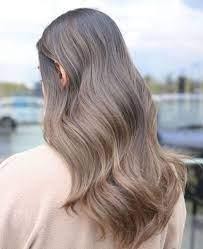 12. Pastel ash purple hair 
This lovely pastel purple hue seen on K-pop idols will necessitate a round or two of bleaching before applying pastel purple hair dye, so we strongly advise going to a professional rather than DIYing the color at home. Aside from pastel ash purple hair, ash pink hair can also be a go-to look. Pro tip: two weeks before bleaching your tresses, prepare your hair by reducing heat styling and applying oil through your ends as often as possible.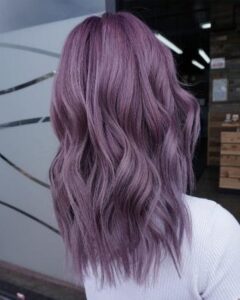 13. Rose brown hair
Brunettes, too, can have a good time. Brunette hair has the reputation of being a dull hair color, but it is far from it. There are numerous methods for enhancing your mane. K-idol's rosy brown mane is a popular choice. It's a low-maintenance option that adds dimension to brown hair.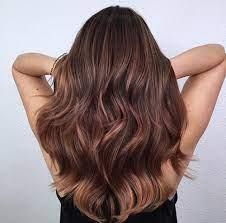 14. Chocolate Brown
In 2023, brown will be one of the most versatile hair colors. It comes in a variety of colors that are suitable for almost everyone. If you dislike mixing red and orange undertones, a deep and rich chocolate brown color is ideal for you. This is also appropriate for those who want to lighten their naturally black hair a shade or two. To keep the color from looking flat, add light brown highlights or create soft beach waves.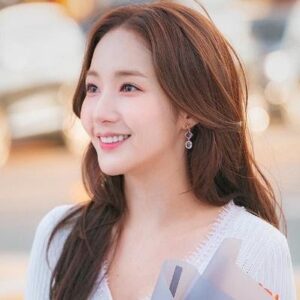 15. Caramel Highlights
A chocolate brown color base would stand out more with caramel highlights for keeping with the brown theme. It's a subtle color that really brings out life and shines in your hair. Furthermore, if you're new to hair color, this is ideal because it doesn't require bleach. These golden highlights compliment your natural hair color, so if you want an easy-to-maintain wash and wear style, caramel highlights are for you.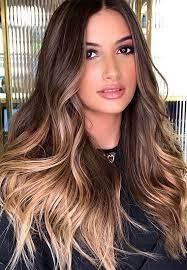 16. Ariel Hair
This trendy hair color is known as the Ariel Hair look because it is bright red. It's one of the most dazzling hair colors out there, just like red velvet's member Joy. It's like Ariel from Disney's The Little Mermaid. It is, as you can see, a very vibrant color. Although you may be hesitant to try it, we believe it would be an excellent color for hot summer days.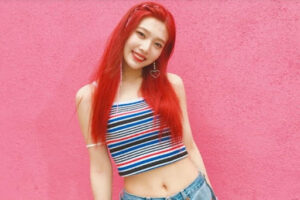 17. Tangerine Brown
You've probably seen this color on your favorite K-drama actress before because it's so popular in Korea and Asia in general. It's generally recommended for fair skin with yellowish undertones because the strong brown tinge in this hue can add the kind of warmth that a bronzer would typically provide. What's the best part? It appears understated indoors but vivacious when exposed to direct sunlight!
18. Wine
If you've had enough of browns and want to try something a little different, a wine-colored mane is definitely worth considering. Consider it a beginner's introduction to red hair asian—subtle, but enough to make a statement. For a more subtle look, request rich mahogany from your colorist, which will still give you a purplish tint but won't require as much processing.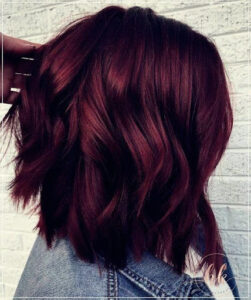 19. Shadow Roots
The issue with coloring your entire head of hair is the constant need to retouch your roots as your hair grows. It is more visible on rainbow and pastel hair colors, as well as other light tones. Thankfully, shadow roots will be a popular coloring technique in 2023, in which your stylist creates a gradient effect while leaving your roots alone. It's inexpensive, low-maintenance, and trendy all at the same time! What's not to love about this?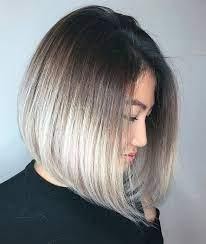 20. Hot Pink
Hot pink or pink brown hair for the scorching summer sun! This hair is not only ideal for 2023 but also for the hot season! In this stunning hair color, you'll be the center of attention wherever you go. You'll get a lot of admiring glances from people. Don't pretend we didn't warn you.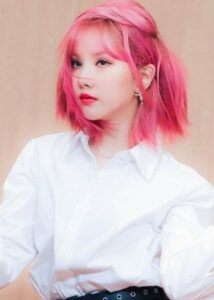 21. Subtle Ash-Brown Hair
This ash-brown hair color or light ash brown hair color is the ideal balance of warm and cool tones, with a hint of brightness around the face. To avoid brass, make sure you use a color-safe and color-depositing shampoo and conditioner to maintain your new color.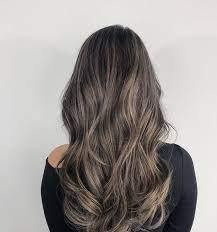 22. Dark ash grey hair
The color of Ash Gray hair fades, and some grays fade faster than others. A lighter grey hair color will fade more quickly than a more deep, charcoal tone. However, new hair color products disappear pretty well. They don't turn dark ash green hair as some ash gray hair colors do, and they stay on-tone.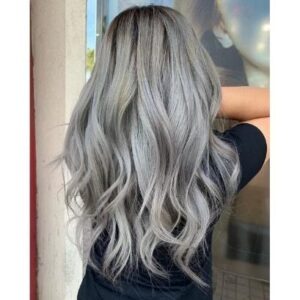 23. Ash green hair
It's a perfect color that promises magic and attention, but it also necessitates a lot of care and attention. To begin, you must have well-bleached hair that is evenly bleached to maximize dye absorption. Washing your hair with cold water and using color-safe and color-depositing shampoos and conditioners will also help to extend the life of your grassy green locks.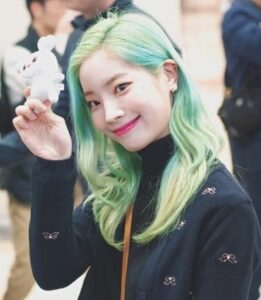 Now that the year is coming to an end, many of you may be looking for ways to say goodbye to 2021 in style. You're probably considering a makeover, such as getting a haircut or changing your hair color. Having your hair dyed is a dramatic way to change up your look, and what better way to do so than by selecting from the most popular hair colors?
HOW TO TAKE CARE OF YOUR HAIR COLOR?
Gray coverage is no longer the only reason to color your hair. From pastel balayage to the trendy money piece, there are many ways to use hair dye to alter your appearance drastically! Nothing, however, is more unappealing than a washed-out dye job. Touch-ups at the salon are time-consuming, costly, and damaging to the hair.
Whether platinum blonde, brunette, black, red, or even blue, color-treated hair requires a little extra care if you want your color to last. Nothing is worse than spending a lot of money at your hair salon for the newest trending color, only to have it fade after a week due to poor hair care. As an expert who has had pink, orange, black, brunette, and blonde hair, coming in and out of the salon, you need to learn a few things about how to care for dyed hair.
Because colored hair is fragile and prone to damage, it requires a dedicated hair care regimen to ensure that your Korean hair color lasts as long as possible. Continue reading to learn crucial hair care tips for taking care of colored hair at home.
1. After coloring, wait for a complete 72 hrs before shampooing
When you color your strands, your cuticle layer is opened, allowing color to penetrate the hair shaft more easily. When you immediately wash your hair too early after your appointment, the cuticle layer may still be open, causing your color to be washed away.
The cuticle layer takes up to three days to fully close, so the longer you wait to shampoo your hair after coloring it, the more time the color pigment has to soak into the hair cuticle, allowing your color to last longer between salon visits.
Please do not wash your hair for at least 72 hours after coloring it; otherwise, the color will easily wash out. The chemical processing used in hair coloring leaves the cuticles of the hair open and vulnerable to damage. Hair dyes because of chemical changes to the structure of the hair. This hair is porous and more prone to damage.
2. Shampoo less
Shampooing less frequently is one of the most significant sacrifices that hair coloring addicts make. Choose your interval: every other day, every two days, or every three days. To avoid drenching your hair while bathing on shampoo-free days, tie your hair into a bun and cover it with a shower cap.
The more you wash, the faster your color will fade – it's really that simple. Reclaim some time in your daily routine by skipping the frequent washing. The best way to care for your color is to wash it only twice or three times a week, then use dry shampoo to soak up oil from the roots as needed.
3. Use sulfate-free shampoo and conditioner
Sodium Laureth Sulfate is an anionic detergent found in various personal care products. This ingredient contributes to the foaming effect of shampoos and conditioners. When you use sulfates, you risk stripping your hair of its natural oils and moisture, which can lead to the loss of your beautiful color-treated hair (which you just spent hours and dollars at the hair salon to achieve).
To keep your hair color from fading away, use a sulfate-free shampoo and conditioner. Kelture Aveda Hair Salon has sulfate-free shampoo and conditioner options for all hair types. Whether you have frizzy, curly, straight, or even thin hair, there is a sulfate-free shampoo and conditioner option for you.
4. Use color care shampoo and conditioner
Choose a color care formula that is gentle on your colored mane for those days when you wash your hair. After coloring, use color care products for at least one month. Colors are easily removed with regular shampoo and conditioner.
For extra shine, treat your color-treated hair locks to a deep-conditioning treatment once a week. You need to apply the treatment to damp hair and comb through from the roots to the tips. Pull your hair into a bun and pin it in place, or wrap it in a soft towel and leave it in for 30 minutes.
When you rinse it out, your hair will be softer and shinier. Another unintended consequence of coloring your hair is protein damage to your hair. When your hair begins to stretch and snap off, you know it's in desperate need of protein. When wet, it may also feel a little mushy. The only way to correct this is to feed your hair protein. You can use either store-bought protein treatments or homemade hair masks.
5. Avoid heat
Particularly during the first few days to weeks after coloring. We're referring to direct sunlight and heated hair tools, both of which will cause your hair color to fade faster. Even hot water can be a problem, so take a shower with cold water. Showers should be cool or lukewarm, as hot water can damage and fade color-treated hair. This is also true for heat styling tools like curling irons, hair straighteners, and blow dryers. As the heat opens up the cuticle, the outer protective covering of the hair is disrupted, and the dye bleeds out easily. When styling your hair, use a thermal protectant hair serum or spray.
6. Use a Color Protectant Shampoo
The shampoo you use has a significant impact on the vibrancy of your hair color. When you do wash your hair, use a shampoo designed specifically for color-treated hair. It will protect your hair while also balancing its natural pH. Color-safe shampoos will keep your hair color and prevent it from fading quickly.
They also include hydrating and nourishing ingredients that help to restore and repair your hair. Shampoos containing harsh elements such as sulfates and alcohol should be avoided. They will remove your hair's color and moisture.
7. Beware of chemicals like sulfates and chlorine
Swimming in a chlorinated pool is even worse than shampooing right after coloring. It will not only cause your hair to fade quickly. But it will also become damaged and brassy when you get out of the pool. Avoid swimming pools for the first few weeks after your coloring job unless you're willing to wade up to your waist or chest area.
Sulfates are the main ingredients in the majority of consumer shampoo brands, including those that claim to be color-safe. Sulfate-free high-end hair care brands are your best bet.
10. Go for treatments at least twice a month. 
Look for salon hair care products that are designed to care for colored or chemically treated hair. Have the treatment done at the salon, or if you want to save money, buy the entire bottle and do it yourself in the comfort of your home.
WHERE TO BUY HAIR DYE IN SINGAPORE?
Kelture Aveda Hair Salon offers the best hair dye Singapore and hair color treatment at the lowest price! Kelture Aveda also offers a cheap hair dye salon but with the best service quality!. So call now, make an appointment at your favorite salon, and get ready to turn heads with your hair!
Appointment Hotline: +(65) 6735 6468
Whatsapp Us: +65 9687 3377
Our Email: [email protected]