5 POPULAR KOREAN HAIRCUTS AS SEEN ON CELEBS THAT ARE A MUST-TRY!
A haircut isn't the only way to change the look of your hair. If you want to keep it stylish, you can perm, color, or add hair accessories. Korean celebrities and influencers have proven that hair is your playground.
Korean women are educated, gorgeous, and innovative when it comes to hairstyling. Whether you're a Korean seeking hairstyle inspiration or just curious about how they style their haircut to get some unique ideas, we won't let you down.
The key to every Korean celebrity's picture-perfect hair isn't all that different from the average person's. It's all about the cut and color, and K-stars and their stylists are well-versed in which combinations will always work in their favor.
In the beauty industry, Koreans have made a reputation for themselves all around the world. Because of their flawless complexions, glossy hair, and ability to age at a prolonged rate, they have baffled the world, who now scramble to follow their skin regimens and hair trends. Koreans have pioneered a wide range of hairstyles that cater to a wide range of lengths and textures.
Here are 25 of the trendiest short and long Korean hairstyles for women to make you appear cute and unique. If you're looking for an easy hairdo that looks stylish, chic, youthful, and trendy, here are some Korean haircuts to consider for your next makeover, ranging from soft curls to stunning colors.
25 KOREAN HAIRCUTS AS SEEN ON K-CELEBS
1. Hershey cut
A "Hershey" cut or perm (a cross between a layered and a "wolf cut") combined with a volume or C-curl perm will also give you a distinct appearance. Apply hair oil to towel-dried hair to keep the natural curl in place. This is sufficient for basic hairstyling.
If Hollywood celebrities have the shag cut, Korean celebrities have the Hershey cut. Actually, the two aren't all that different, with both emphasizing multiple layers for texture. If anything, the Hershey is frequently accompanied by a full fringe or side bangs. In Korea, it's a beginner-friendly mullet and wolf cut, as seen on some K-celebs.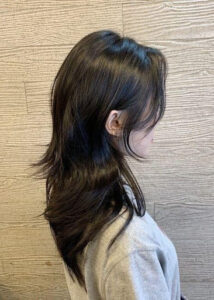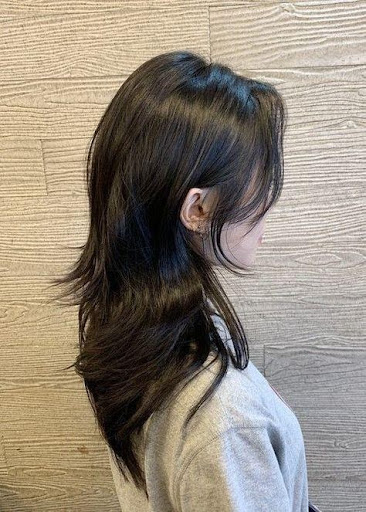 2. Long layered cut
Long, layered haircuts are the norm for Korean actresses, as you may have noticed if you watch K-drama. It's a simple one to follow, reducing heaviness even when their locks grow out in the midst of hectic schedules. Celebrities' layers are also cut to fit their face shape precisely, which is the key to their naturally-looking locks. Long layered hairstyles can enhance your excellent facial features and draw attention away from weaker parts. Your hair frames your face, so it's the second thing people notice about you.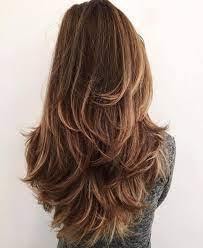 3. Rounded Bob 
If you mean some business look and want to feel professional, the rounded bob haircut is a great hairstyle to wear. It can also be easily transitioned for a classy look when not in use. This kind of hairstyle has soft layers at the ends and a length that grazes the chin, perfectly framing the face and softening the jawline. Try this Korean haircut for you to experience that k-drama vibe.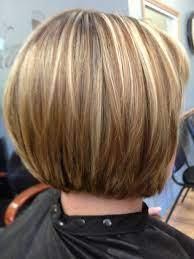 4. Layered cut with bangs
Actresses and K-pop idols add various fringes to their long strands to add dimension to a layered cut. When styled in waves, long side bangs or curtain bangs work wonders for framing round faces and creating the illusion of fuller locks. A wispy fringe cut below the brows is always flattering if you have a broad forehead or want a smaller-looking mug!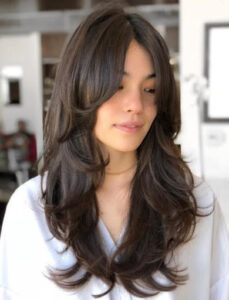 5. Blunt Lob with Wispy Curtain Bangs
Are you not ready for a full fringe? Then you should try wispy bangs with a blunt bob! Again, the bangs soften your features, giving you a more feminine appearance, and this hair length will unquestionably make you look younger!
On hot days, Koreans prefer dainty bangs that can be easily tucked away. If you don't like layers, then this is the cut that frames your face better. The wispy bangs give you a more feminine look if you want to exude more femininity with your 'do.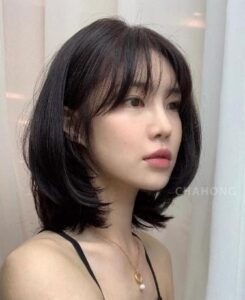 6. Layered mid-length cut
During the warmer months, K-stars, like us in the tropics, prefer mid-length haircuts. It's also ideal for thick hair because it's lighter than having longer tresses. Furthermore, many actresses gracefully transition to their long locks after cutting their hair short for a role with a layered chest-length style with a fringe!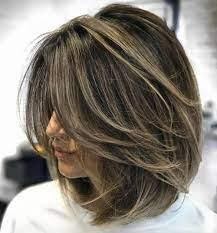 7. Waist-length cut with blunt bangs
Are you not a fan of the layered look? Extra-long hair is your best bet for a chic, forward look. Those with fine hair can easily pull off this look without feeling too weighed down. However, if you want more fullness on top, try pairing it with a blunt fringe.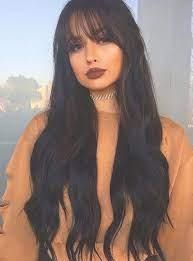 8. Face Framing Layers
Do you want to give your locks more volume? Face-framing layers are an option. They are simple and provide fullness with an enviable bounce to your hair. The layers are minimal and mainly concentrated around the face. Except for the ends, which are textured to create bounce, the back has little to no texture.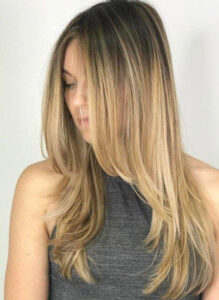 9. Blunt lob
Blunt lobs are ideal for a dramatic yet chic and straightforward change. It's perfect if you prefer to wear your hair down with minimal styling (or none at all) but still want a polished look. To add some oomph, wear it with a clean center or side part, or add a flattering fringe type for your face shape.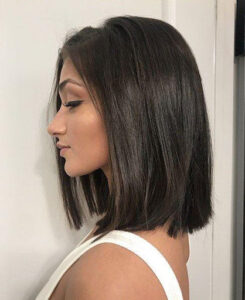 10. Shaggy Layered Bob with Full Blunt Bangs
When you have short hair, a full fringe can look great! But don't match your sleek fringe with an equally blunt bob. Instead, go for a layered cut, such as a long pixie! This will make your hair look less geometric and will also give you a softer look!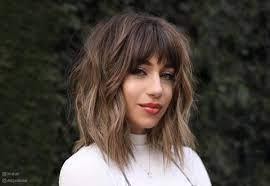 11. Blunt bob
You can never go wrong with this blunt bob if you want to go shorter than a lob. Your features determine the choice between a chin-length or a jaw cut. For example, chin-length bobs perfectly suit square-shaped faces because they accentuate a strong jawline and give the appearance of a longer chin. Those with round or heart-shaped faces, on the other hand, would look good with bobs cut slightly below the jaw so that it makes the area appear defined and angular.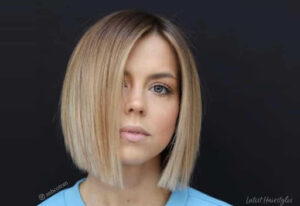 12. Layered cut with blunt bangs
The typical long hair and long bangs combo may feel a little too much coverage for those of you with small faces. To get around this, go for high-contrast layers that will shave some weight while also framing your face, and for your fringe, try cropped bangs cut just above your brows.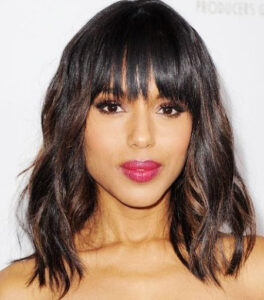 13. Soft-Layered Lob with Wispy Bangs
If you're not ready to commit to a mullet or a shaggier 'do, opt for a lob that can be easily tied into a bun. If properly styled, the length isn't too short, and the bangs aren't too noticeable. Keep in mind that this look is best when the hair is blow-dried, and the bangs are set with a soft curl.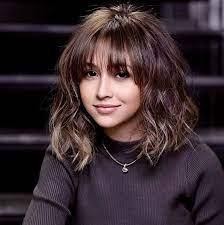 14. Razor Cut Bob with Sharp Fringe
Precision cutting techniques are used to make this retro style sharp and polished. This hairstyle is enhanced by clean lines that are softly textured to remove weight. This haircut can be customized to fit a variety of face shapes and will always look elegant. Straight hair will look absolutely good in this, and there are also versions for medium curly and wavy hair.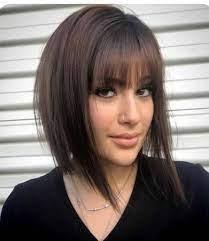 15. Layered Chin-Length Bob with Micro Bangs
Try a short bob with layered edges if you want to try a style that isn't too feminine. Baby bangs are also very unique and are ideal if you're going to experiment with different hair colors! Trust us when we say that this is the look to go for if you want to turn heads online and in person!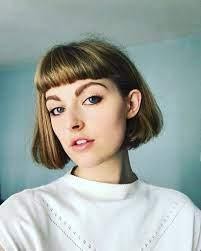 16. Curly Bob with Blunt Bangs
With a curly bob and blunt bangs, you can channel your inner K-Pop star. Scrunch your hair after curling it to style it and make it look thicker. This Korean short hairstyle for you can also make thin hair appear fuller and more bouncy.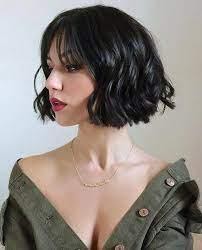 17. C-Curl Medium Hair with Curtain Bangs
Use a medium-sized round brush to give the tips of your bob a more pronounced inverted C-shape once it has grown from chin-length to medium length. Put the brush underneath your hair and the blow-dryer on the other side. Straighten your hair, then curve the brush inwards towards the tips. Add curtain bangs to complete the look.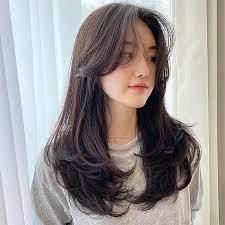 18. Concave Bob
A concave bob (also known as an A-line bob) is a short hairstyle for women shorter in the back than in the front. Bob hairstyles, in general, are very popular right now, and the concave bob is an excellent choice.
With a youthful bob, you can up your aegyo (adorable cuteness) factor. Wrap sections of your hair around those hair rollers to add volume, making sure the tips point inwards. Blow-dry your hair, then take out the rollers and scrunch them to make them loose and bouncy.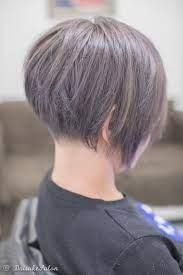 19.  Korean Pixie Cut
In 2021, pixie haircuts will undoubtedly be popular. It's the kind of hairstyle that's highly versatile, makes a statement, and is ideal for women who don't have a lot of time.
Furthermore, there are so many different styles that there is a perfect cut for every woman. Hair in Korean-style pixie cuts frequently falls right at the ear level. To style, add a side fringe and blow-dry it.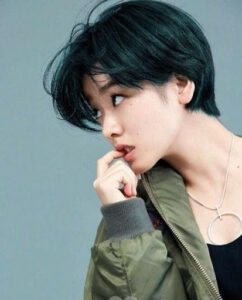 20. Wavy Long Layered Hair
Layers are the best choice for those with curly and wavy hair. This is due to the fact that this will highlight the movement and bounce of this hair type. Cutting layers will allow your stylist to create a more structured and attractive look by framing and balancing your face shape with waves. Wavy long layered hair is an excellent choice for softening a solid jaw line or making your face appear more proportionate.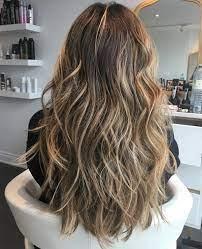 21. Long Layered Hair with Side Bangs
Long layered hair with side bangs is a pretty and bohemian look that flatters many face shapes, including round, square, and oval. It's also an excellent choice if your hair is naturally very thick. Long layered hair with side bangs is a low-maintenance look ideal for those who don't want to spend hours styling their locks and prefer a textured, beachy vibe with a subtle retro feel.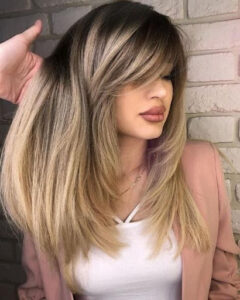 22.  Long V-Cut Layers
The v-cut involves sharply layering hair in the back to make a V shape, as the name implies. For people with thick hair, the V-cut is great since it allows you to preserve longer strands without feeling burdened down. It also works with various hair types, adding movement and texture to sleek, smooth waves and structure to naturally wavy tresses.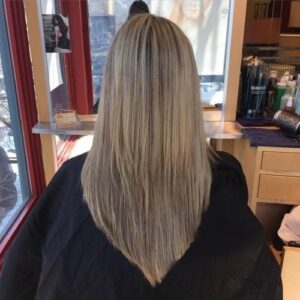 23. Short Haircut with Bangs
You can't deny the powerful appeal that bangs can add to anyone's appearance. When it comes to bangs, it doesn't matter your face shape, skin tone, or hair texture. In fact, when you have short hair with bangs, being irresistible becomes second nature.
Surprisingly, statement-making bangs on short hair can come in a variety of styles, allowing you to experiment with new styles every season. However, you must consider our hair volume, color, and other factors to achieve the perfect look for rocking your day.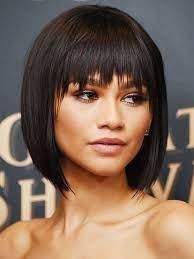 24. Korean Fringe Hair
There is this specific fringe that can suit every face shape when it comes to fringes. With our edit of the best celeb bangs, you'll find your fringe style in no time, whether it's a heart, square, or even the dreaded round face-fringe-combo.
This Korean fringe adds a splash of color to any outfit. It's cool and classy all at the same time. As a bonus, it has a soft romantic vibe to it.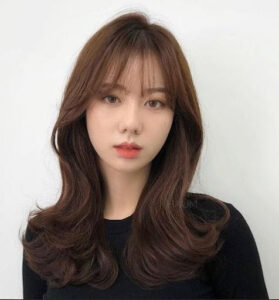 25. Long Waves
We had to start with "Crash Landing on You" and Yoon Seri's hairstyle while trapped in a small North Korean village, as it is one of the most popular K-Dramas of all time (played by Son Ye-jin). Just don't ask us how this CEO looks so perfect all the time; we have no idea! This elegant and feminine hairstyle features long hair with a layered cut and soft waves.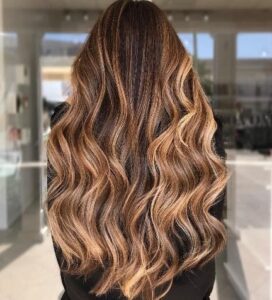 WHY DO YOU NEED A HAIRCUT?
Getting a haircut on a regular basis is the simplest and most effective way to achieve healthy, strong, and beautiful hair. Getting a haircut or known as a simple hair trim, every six to eight weeks can help keep the hair cuticles from being damaged, split, or broken. When you start having split ends problems, your hair will become very thin and impossible to repair. Getting your haircut on a timely basis can help you avoid these problems and achieve the best-looking hair.
The benefits of having your hair cut at Kelture Aveda Hair Salon in Singapore cannot be overstated because it results in strong, healthy, and beautiful hair.
There are numerous advantages to keeping your locks in good condition. According to experts, trimming your hair regularly helps prevent hair cuticles from splitting apart. Repairing split ends can be difficult and time-consuming. This is why getting your hair cut regularly can help you avoid such problems while also making your hair look beautiful, strong, and healthy all of the time.
Some of the benefits of getting a classic haircut at Kelture Aveda Hair Salon are as follows.
1. Controlling the damage
Getting a haircut regularly, or every six to eight weeks, will help reduce the damage caused by split ends and maintain a healthy shine. A haircut or even a trim will improve the cuticles and overall texture of your hair.
2. It makes your hair look thicker
As previously stated, getting a regular haircut results in healthier hair. This can help you who have thin hairlines, making them even fuller. If you get your haircut at Kelture Aveda Hair Salon on a regular basis, you can expect the hair specialist to assist you. Whether you believe it or not, regular haircuts will give the impression that you have thicker hair than usual.
3. It can help you maintain the hairstyle that you want
It's easy to become confused about how to style your hair if you haven't been to the salon in a long time. You try to deceive yourself (and others) by experimenting with different hairstyles from time to time in order to achieve the look that you ultimately desire for yourself. Regular haircuts allow you to discover which hairstyles work best for you. This will also ensure that your hairstyle complements the shape of your face.
4. Boost the growth
Regular haircuts and trimming will protect your hair from damage and make room for healthy growth. Simply getting a haircut from the bottom of your hair will reduce split ends and help your hair grow faster.
5. Minimizes Dandruff and Dry Scalp
Dandruff is characterized by flakes that shed from a dry or infected scalp. One cause of dandruff accumulation is a lack of regular hair washing. Dandruff grows well in the heat of summer as well as the dampness of winter.
A regular haircut begins with a wash that exposes the scalp and removes dry flakes. It also allows for scalp moisturization, which prevents flaking and eventual dandruff formation.
6. Less Damaged Split Ends
Heat, sun, sea, and chemicals all damage your hair over time, resulting in split ends and damage. Less split ends mean healthier, more beautiful hair. The longer you go without getting your hair trimmed, the more visible your split ends become. Split ends are frayed hair strands that separate into fragments.
If you do not take care of your hair, it may become more prone to damage. Even a minor trim can help to tame split ends while maintaining the desired length and style. Those who want longer hair should have it cut or trimmed on a regular basis. By removing broken or split ends, you can help your hair grow longer and faster!
7. Retain the perfect length
Getting your hair trimmed regularly will also help you retain the length of your hair and promote faster growth. Split ends travel up to the shaft of the hair and halt hair growth, resulting in hair loss and thinner-looking hair. A regular haircut will ensure that your hair grows steadily and quickly.
As a result, these are the best advantages of getting a regular haircut that can help you achieve the most beautiful locks that you desire. Healthy hair begins with you, and you must make it a habit to go for hair trims and cuts regularly if you want the most healthy and voluminous hair.
8. Easier to manage
After a certain period of time, a change in haircut and style is required. Though the average rate of hair growth varies from person to person, regular haircuts help keep its shape and make it easier to manage. Fewer tangles, fewer flyaways, less breakage, and no split ends equal simple hair care!
For booking an appointment, you can visit Kelture Aveda Hair Salon!