You've probably heard about balayage hair by now, and you may even want to try it. It's now one of the most popular hairstyles that people hype up.
If you are looking for some hair color ideas and hairstyle that is low maintenance for your straight hair, whether it's short, medium, or long hair, Balayage is ideal for you. This is because it is made to appear natural and does not require frequent salon touch-ups. Without a doubt, it can make your hair look ten times more beautiful and a lot more stylish.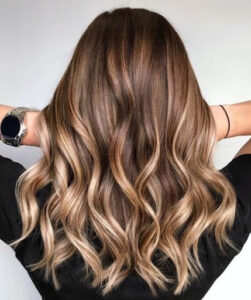 WHAT IS BALAYAGE HAIRSTYLE?
Balayage is a French hair coloring process that has been increasingly popular in recent years, with many celebrities bringing it to the public's attention.
It is a technique that adds volume and improves the texture of the hair. This kind of technique is what we desire the most since most Asian hair is flat and doesn't have enough volume to it.
The lovely shades can add texture and liveliness to dark Asian hair while also brightening the complexion.
Balayage is traditionally associated with curly or wavy hair, but as you'll see, it can also be used on straight hair with stunning results.
Many Asians have straight black hair, and today, there are several options for women looking for a balayage for Asian hair for a change.
WHAT BALAYAGE HAIR COLOR SHOULD YOU GET FOR YOUR ASIAN HAIR?
Asian hair can be challenging to work with since it tends to resist color. Typically, Asian hair has a low porosity, which means that the cuticle on the hair's surface produces a tight layer. As a result, the color must penetrate a closed cuticle and seal to reach the dark base color in order to saturate the hair.
Asian hair tends typically to be brown in color. In order to achieve a balayage look, it needs to be elevated much higher than brown. This means that the hair must be bleached to complete the look that you want.
Take a peek at these balayage looks, and you're bound to find something you like for your Asian hair.
1. Golden peach balayage
One of the most interesting pastel shades is golden peach pastel hair color. Light pinkish and orangish babylights refresh your face and project a warmer, brighter image. Toning the hair with a semi-permanent peach color dye will be an excellent level up to the standard blond balayage. This could be a go-to look if you want something to spice up your hair.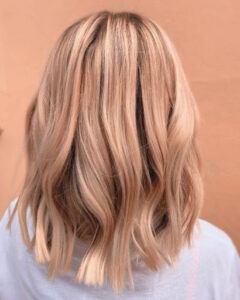 2. Root Blur Balayage
Color that is easy to grow out of is understandably one of this year's top trends. This is referred to as a 2020 remix of ombre. Ask your colorist for a shadow root and have it faded into your hair to achieve the look. This is a high-contrast technique that uses darker color tones for contrast. In short, a Root Blur creates darker tones at the root area while leaving lighter tones at the ends, which is perfect for every Asian hair type.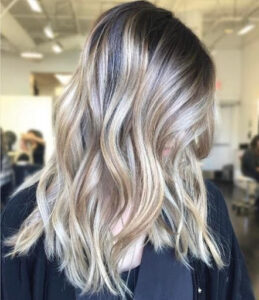 3. Long Waves with Warm Caramel Balayage
Caramel balayage is a popular coloring technique that creates a gorgeous sun-kissed effect by adding lighter, blonde balayage highlights to Asian hair. Long hair, tumbling curls, and caramel highlights are classic looks that would suit you. A variety of layers will add movement to locks while emphasizing the warm undertones that run throughout.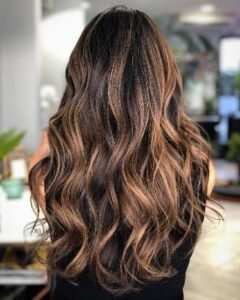 4. Brown Ale
You might be tempted to lighten your strands if you have Asian hair! Fortunately, the Brown Ale is a balayage coloring technique explicitly designed for brunettes. Brown ale hair gives you that deep mahogany base with amber highlights swirled throughout. The shade is ideal for this time of year because it allows you to go deeper and more prosperous for the upcoming cold weather while still providing a touch of warmth.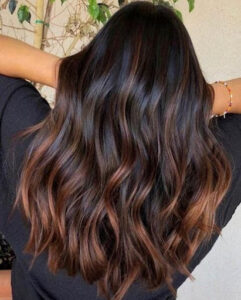 5. Soft Cool-Toned Ash Brown Balayage
Ash brown hair is a modern variation of brunette hair with cool grey tones. Soft Cool-Toned Ash Brown Balayage works with any hair color, including in Asian hair. It's all about finding the right shade to go with your natural hair and the vibe you're going for. To lighten up your look, go with an ashen brown if you want something more subdued.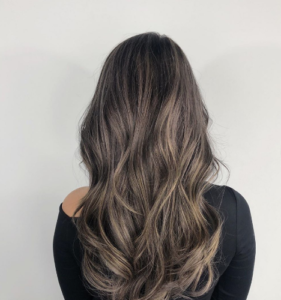 6. Caramel Mocha Balayage
Warm and cool color schemes are popular right now. The Caramel Mocha hair color is ideal for transitioning from sunny beach days to moody Netflix-and-chill days. It's a stunning color that looks like a cup of black coffee with a generous amount of caramel on top. The image is completed and luxuriously styled with white blonde and strawberry blonde strands. You should go for caramel mocha balayage if you want that beach vibes in you.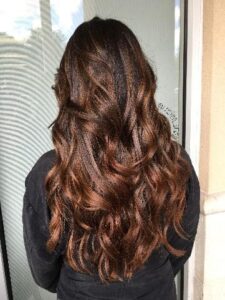 7. Chili Chocolate Balayage
Chili chocolate hair is created by highlighting warm, red tones into a brown base with the balayage technique. The key to nailing this color is to request super natural touches of red and auburn and not go for a full-on redhead look. At first glance, the rich auburn painted over deep brown has an autumnal vibe, but it's actually meant to give you a sun-kissed appearance. This is a perfect hairstyle for you if you love autumn!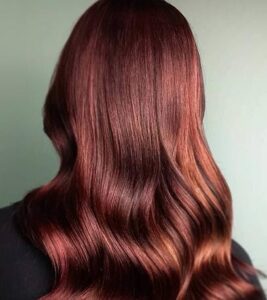 8. Partial Balayage on Dark Hair
While a full balayage involves stroking lightener through most of the hair, including the top and bottom layers, a partial balayage focuses on just one area, such as the front or top layers. The beige blonde balayage hair color beautifully contrasts the dark base. It draws attention to the front strands to frame your face and make you look even more appealing!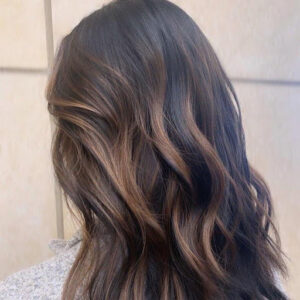 9. Wavy Lob with Balayage
Lob is also known as a stylish long bob with balayage. This is an excellent deal for people like you who want to make sure their color lasts, and it's low maintenance. A lob hairstyle with partial balayage highlights is incredibly appealing. This look is best for your Asian hair that you can rock on any occasion.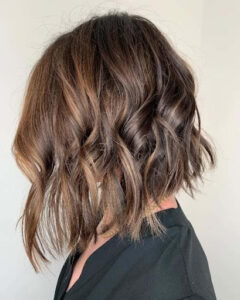 10. Subtle Balayage Highlights
If high contrasts are not your thing, then you might want to experiment with subtle balayage. When it comes to a faux natural look, subtle highlights are the way to go. They're soft and delicate, adding only a slight lift to your Asian hair base color. This highlighting uses color only on specific areas of the hair, such as where the light catches or where color would naturally fade out.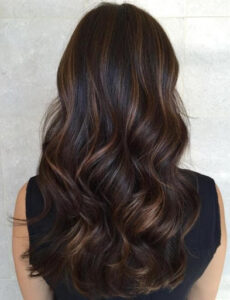 11. edium Hair and Multi-Colored Balayage
Thanks to balayage's technique, hair can look like a fantastic art with dimension and gorgeous color blends. Multi-Colored Balayage is a technique in which color is swept through the hair from roots to ends. Multidimensional highlights provide a more natural look and youthful look to your overall appearance. A wavy finish enhances this masterpiece.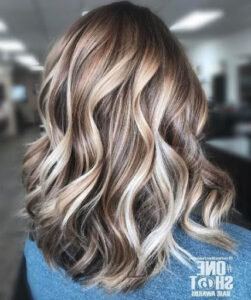 12. Bronze Partial Balayage
The bronze hair color is a brunette shade with red, caramel, and gold undertones. Like other warm-toned brunette shades, bronze hair color adds warmth, brightness, and dimension to your features while requiring little maintenance. So, if you want to update your look, this delicate bronze balayage is the way to go!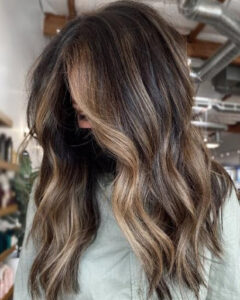 13. Black Hair with Chocolate Brown Balayage
If you are going from dark colors, black hair may need some special care and attention. While bleach can be damaging to your hair, if you nourish it with organic lotions and oils, you'll have curls as healthy and shiny. Furthermore, a subtle lift with chocolatey highlights is all that is required to make your Asian hair pop.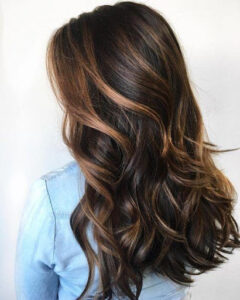 14. High-Shine Full Copper Balayage
Copper balayage, an actual halo of light for the hair, after all, has recently become the new hair trend that suits all types of hair. This subtle coloring technique floods the hair with warm highlights while blending in perfectly with the natural base. Copper blond is a reddish color, and reds fade more quickly than other dyes. Without proper care, the color may disappear soon.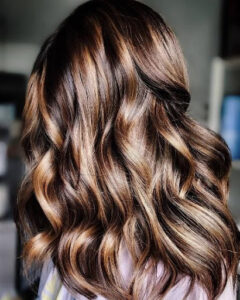 15. Toasted Coconut Balayage
Toasted coconut hair is similar to bronde hair in that it combines brown and blonde tones, but the color is applied in a gradient rather than a blend. Consider dark roots that fade into bright, blonde ends. The look, as the name implies, creates a "toasted" blonde to your hair color. These colors look great on both curly and straight Asian hair that you will surely love.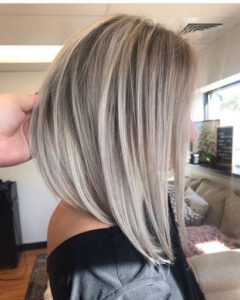 16. Smokey Blonde Balayage
Smoky hair color relies heavily on an experienced colorist's ability to create the perfect gradient from root to tip, with absolutely flawless blending in the mid-lengths. The strands near your face will be warmer and softer, blended with your natural root color. Smoky hair is a brilliant blend of light and dark shades, with a cool shadow shade and the roots that are seamlessly blended with a slightly lighter reflective shade on the lengths.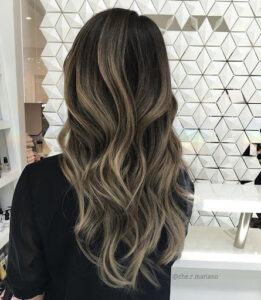 17. Metallic Bronde Balayage for Brunettes
This balayage hair color is perfect for any Asian hair. It has a delicately balanced combination of warm blonde and dark chocolate brown, and it can completely transform your look. If you want something new to your hair, you can style it with soft waves for a cheeky, laid-back look. You will surely turn heads anywhere you go with this kind of hairstyle.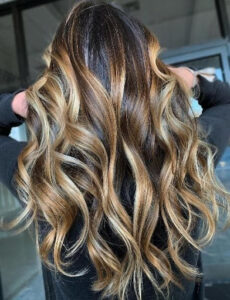 18. Silver Gray Balayage Ombre Hair
Silver hair s not going away! In fact, it will not give you an old age look as you think it would. Gray brunette balayage will complement a millennial grunge wardrobe. If you like something edgy, then this color might suit your style. Silver-gray balayage ombre hair has a lot of contrast between the two tones, but a skilled colorist can hand blend them.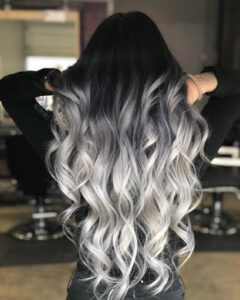 19. Icy Blonde Balayage with Shadow Roots
If you ever love the movie Frozen, then this style might give you that frozen vibe. When the gradient between the colors is blended into dark roots, this gives you a cool ash blonde balayage. This hair color looks stunning because it complements the icy shade perfectly. You will get that straight out from the movie's kind of look.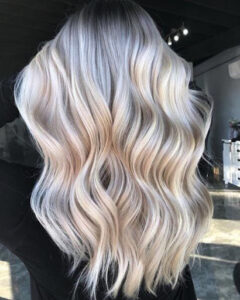 20. Rose Gold Balayage
Rose gold has unquestionably been the color of the last five years. This gives you a k-pop look since Korean groups tend to experiment with their hair with beautiful colors. The rosy metallic shade, which can be found in everything from jewelry to home decor, is simply stunning. Rose gold balayage looks great on hair of all lengths and textures.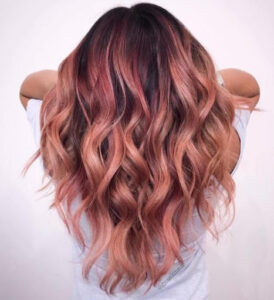 21. Golden Caramel Balayage
Caramel balayage is a beautiful hair coloring technique that delicately sweeps in light and natural brunette colors, usually into a darker base, to achieve a sun-kissed look. This hair color is ideal for long and very long hair. If you want to keep your long hair but want some color that suits it, then golden caramel balayage is for you. Some strands are lightened almost all the way to the roots, while others are only colored at the tips.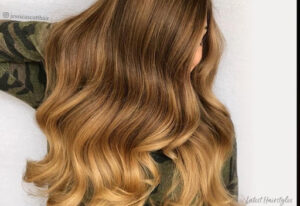 22. Radiant Light Brown Balayage Highlights
Blonde-brown is a classic balayage color combination. Despite the fact that it is not your natural hair color, something about it feels easy and natural. This is perfect for those who want to have natural-looking hair. Combining a balayage with a medium haircut heightens the casual vibe even more. Add some bangs for added texture and depth, and you are good to go.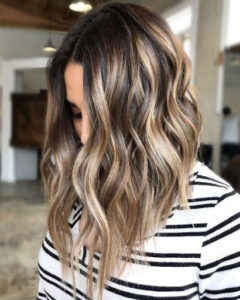 23. Rooted Bright Bronde Balayage 
The best way to get that natural blonde look on natural Asian hair is to create a beautiful color melt, leaving the roots untouched and blending several light shades, both cool and warm. This look pops up your skin town and highlights your facial features. Lowlights will also help texturize the hair, giving you that luxurious vibe.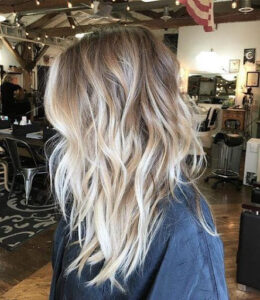 24. Ash Brown Balayage with Bronze Strokes
This one looks especially lovely on women with tanned skin. It will bring out your skin tone and will complement naturally with this hair color. Using honey-beige shades can achieve matte waves on the bottom and a healthy shine near the roots. This color will draw attention to the naturalness of your appearance.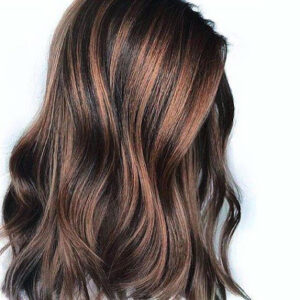 25. Dark Brown with Golden and Ash Blonde Highlights
Bronde is a term for blonde highlights on brown hair. This color combination is not only great for Asian hair but in any hair too. The gorgeous colors make the hairstyle easy to wear all day and night. You can rock this kind of hair, leaving those people in awe by just looking at it.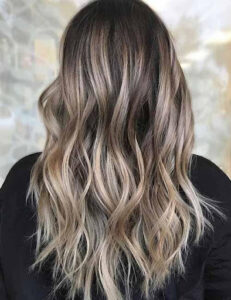 26. White Coffee Balayage on Dark Hair
A delicate transition from dark to creamy shades is an excellent choice for those with soft and gentle curls. If you have naturally curly hair, this hair color is for you because it instantly makes them appear more voluminous. It will also soften the sharp features by smoothing them out.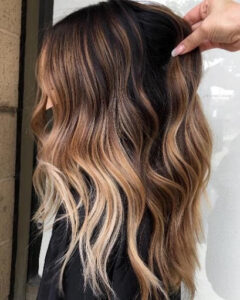 27. Dimensional Dark Blonde Balayage
A natural dark blonde looks very fashionable. With the balayage technique, you can achieve a wide range of shades and soft highlights that look like sun-bleached strands. This dimensional dark blonde balayage can give you a new kick start for your hair. This kind of hair color will provide you with a youthful look and give off that summer beach vibe.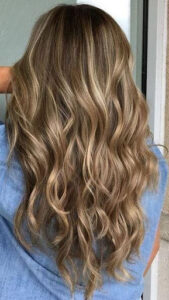 28. Glossy Caramel Balayage Hair
Nothing beats a glossy finish for a brown balayage. That sheen is always an indication of healthy, strong hair. If your hair is dull and you want to make it more lively, you need to try this glossy caramel balayage look. To achieve that glow in an instant, apply a lightweight oil or hair serum. Add wispy layers for movement to your hair to bring it to life.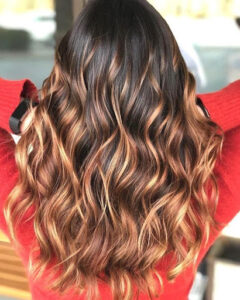 29. Bright Blonde Highlights for Chocolate Hair
The light chocolate hair stands out thanks to the bright blonde balayage highlights. Add more color near your face to brighten your skin tone and make it more noticeable. Whether you wear your hair straight or with waves, you'll be the center of attraction on any occasion!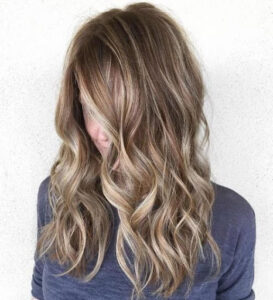 30. Dark Bob with Copper and Golden Blonde Highlights
Choosing warm-toned copper and gold highlights for your Balayage hair color can really pop up your look. These colors add depth to the curly brown bob. Adding highlights is an easy way to stand out with a simple hairstyle when you don't have much length to work with. Another option is to have perfectly messed-up waves.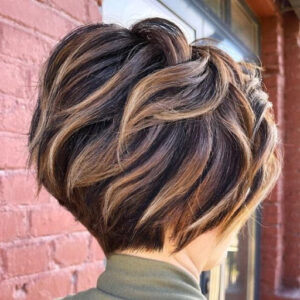 WHERE SHOULD YOU GET BALAYAGE HAIR IN SINGAPORE?
It may be a hustle to look for a salon that can deliver your vision. One thing you need to consider is the quality of their work to make your money worthwhile.
You don't want to spend money on salons that don't meet your expectations, do you?
There are many salons in Singapore that you can go to. In fact, you can always do your research.
One of the things you need to keep in mind is that you should know what you want with your hair.
It is also essential that your stylists communicate with you and know the disadvantages and advantages of the style and hair color you like.
Kelture Aveda Hair Salon will give you a service that can turn your vision into reality.
Not only that, they have services to choose from.
If you want to have a balayage, Kelture Aveda Hair Salon has a team of experts that specializes in hair coloring.
In fact, it is one of Singapore's best hair salons. Give your hair the treatment it deserves. Book an appointment now and see how your hair will look absolutely stunning.
Kelture Aveda Hair Salon
Find Us
Phone
+(65) 6735 6468
Mail
Address
#05-07 Paragon, 290 Orchard Road, Singapore 238859