Like your clothes, haircuts aren't one-size-fits-all. But unlike your clothes, you can't take a crap haircut off after a day of fielding abuse from your colleagues. Many guys try the trending haircuts like sideshave , pompadour , backcomb and unable to pull it off.
Which is why before going under the barber's scissors, it's worth knowing which haircut best suit your face shape. After all, an extra inch here or a smattering of facial hair there can make all the difference. Here's how to decide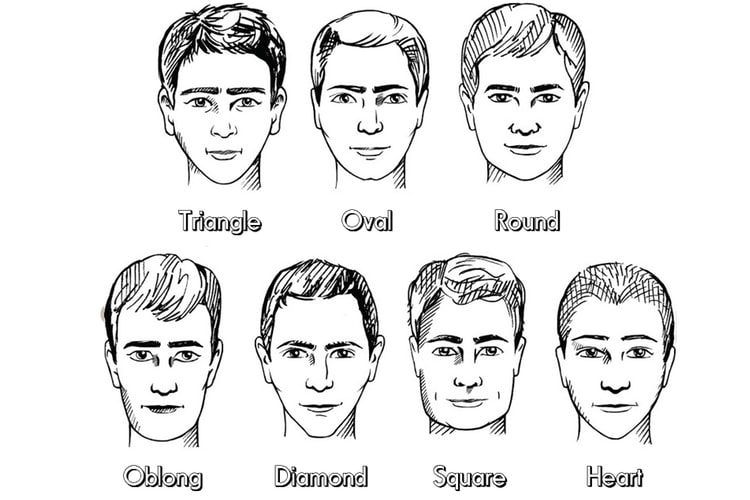 The most important factor when choosing the right haircut is your face shape. It is very important to determine what is your face shape. Different hairstyles suit different face shapes better, so make sure you know what is your face shape before you step into a barbershop once more.
The best way to determine your face shape is by measuring it. Take a tape measure and measure the width of your jaw, forehead and also measure the length from one cheekbone to another. Take the average of these measurements. Then measure the length of your face by measuring from your the point where your hairline starts to your chin.
Oval: Face length is greater than the width of the cheekbones, and forehead is greater than the jawline. The angle of the jaw is rounded rather than sharp.
Rectangle/oblong: Face length is the greatest measurement. Forehead, cheekbones, and jawline are similar in size.
Triangular: Jawline measures greater than cheekbones, which measure larger than the forehead.
Round: Cheekbones and face length have a similar measurement. They are larger than the forehead and jawline, which also have a similar measurement. The angle of the jaw is soft and much less defined.
Heart: Forehead measures greater than the cheekbones and jawline. The chin is pointed.
Square: All measurements are fairly similar. The angle of the jaw is sharp rather than rounded.
Diamond: Face length measures largest. Then, in descending order: cheekbones, forehead, and smallest is jawline. The chin is pointed.
Choosing the a haircut for your face
Seen as the genetic jackpot for women, an oval may not be the most alpha of face shapes for men, but it's a good canvas for experimentation. Symmetrical and well-proportioned, an oval face shape does pretty much any hairstyle justice, so – you lucky boy – the choice is very much yours.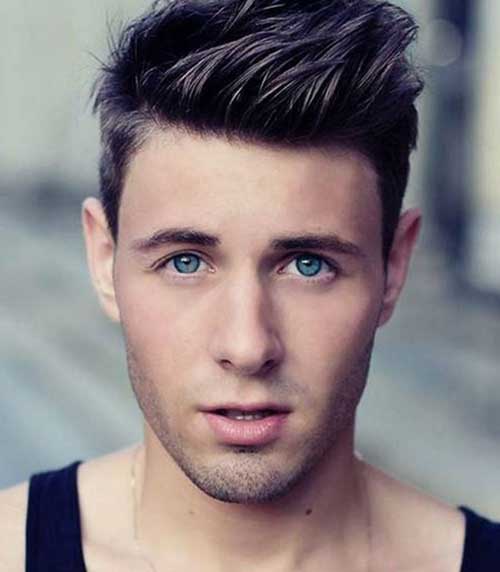 That said, there are a couple of minor caveats to ensure you optimise your ovalness. "The trick with an oval face shape is to wear your hair off the forehead to create some volume and angles on top," says Aveda master barber Stelios Nicolaou. "The most suitable style is a classic short back and sides and slightly longer on the top, with a side-swept parting."
You'll also want to avoid a forward fringe. "Too much heaviness on the forehead softens features and increases roundness of the face," says celebrity hairstylist Jamie Stevens.
And feel free to ditch the beard, says Ruffians creative director Denis Robinson. "You don't need facial hair to fill out any disproportionate gaps in this case, so feel free to go clean-shaven."
Considered the masculine ideal, a square face shape is characterised by a razor sharp jawline, even proportions and an overall chiselled appearance. Grrr.
Like the oval, it's a great foundation for most styles and is versatile enough to work with both extremely short and longer hairstyles – from buzz cuts to French crops to quiffs. Just bear in mind that the shorter you go, the more you look like you've just been conscripted. Not that that won't serve you well.
"Classic, neat haircuts complement a square shape best – think close fades, side partings and short layers," says Stevens. Some light stubble also gives the sharpness of your jawline a little welcome texture without blurring its line.
The longest of the face shapes, a rectangular face falls somewhere between an oval and a square, but requires a subtly tweaked hairstyle to ensure the face doesn't appear even longer than it is.
"Because a rectangular face looks longer, it's important to avoid taking the sides too short if keeping length on the top, as this would only accentuate the length of the face," explains Nicolaou. "Try a well-proportioned style that doesn't take the sides too short or leave too much length on top."
Taking that advice, try a haircut that lets the hair fall to the sides and/or across the forehead to add width and ensure your face doesn't appear narrower than it is.
Finally, never pair with a Duck Dynasty a beard, says Robinson. "A full beard only elongates the face, so instead try facial hair that ranges in length from stubble to a short beard to fill out any gaps."
Circular with a rounded chin and no obvious lines or angles, a round face shape benefits from a haircut that lends it some definition.
"If you've got a round face shape, think square," says Stevens. "Since round faces have little in the way of natural angles, you need to create the illusion of structure with your hair. A style with height on the top that's taken tight at the sides such as a pompadour or a flat top works well to add structure, as do front fringes."
"Square corners in the high recession area of your hair will sharpen up any soft edges," adds Robinson. "A full square beard will also help thin the chin area, giving the appearance of a more chiselled jaw."
Narrow in the chin and brow, with width in the cheeks, the diamond is one of the rarer face shapes. Because of that, it has some specialist requirements to ensure it looks its namesake.
"Hairstyles that add width at the forehead and chin area are your best bet," says Stevens. "Fringes work well to add texture to the forehead, while longer styles that can be tucked behind the ears are great for accentuating a diamond shape's bone structure."
Don't, however, take the sides too short – given the width of the cheekbones, a hairstyle that's particularly short at the sides will only make your ears look bigger.
Softer lines and layers are better for this face shape, working to soften its natural angles. Try a side sweep or deep side-parting, and consider growing a 5 o'clock shadow if you want to add some size to a narrower chin. 
Wide at the temples and hairline, gradually narrowing to a point at the chin, the (fairly rare) heart face shape benefits from a few optical illusions to make it appear better proportioned.
"Avoid cuts that are very tight, as these will accentuate the narrowness of the chin and the width of the forehead," says Stevens. "A medium-length swept look is the safest bet." Mid-length and long hairstyles that are kept reasonably thin and light soften the heart shape's strong forehead.
Facial hair is also key in this case, adding some much-needed bulk to a narrow chin and jawline, says Robinson. "As with the diamond face shape, a beard helps a heart shape gain fullness in the lower, narrower half of the head."
Due to its narrow forehead and wide jawline, a triangular face requires the opposite treatment of a heart shape.
"A style with volume is king with this one," says Stevens. "Opt for longer, nose-length haircuts with fuller sides, which work to add depth."
As for the beard, the most you'll look good with is some light stubble. But really, given the prominence of the jawline in this case, it's best to steer clean-shaven. Grab the razor, fellas.
This factor is also extremely important when choosing the right haircut. While tools like a blow-dryer, straightener, and products can help you achieve different hairstyles, some hair types work with certain hairstyles and some don't. Try to choose a haircut that goes well with your hair texture. Also remember to take care of your hair health! Check out our other articles like washing hair, hair loss, and protecting your hair from damaging
Wavy thick hair looks great with almost all hairstyles, except for slickbacks, as it is quite difficult to do it.
Curly hair looks great with modern fades and edgy, angular versions of the undercut.
Straight, coarse hair owners should follow its natural pattern, as it is very difficult to style this type of hair in a different way.
Straight, thin hair look great in classic hairstyles, especially slickbacks.